6 Must Try Street Foods in Tokyo
By Yukie Wakasugi
Tokyo is alive and kicking 24 hours a day and bursting with a rich food culture. In addition to its Michelin starred cuisine and exquisite sushi restaurants, you will find some of the best street food in Tokyo. From staples that have been around for 1000's of years to modern twists on the classics, our street food scene is incredibly diverse - you just need to figure out where to eat in Tokyo. I have a list of 6 personal favourite dishes that I would strongly recommend if you are embarking upon a Tokyo street food tour, so follow your nose and the crowds of locals and start eating your way through the city!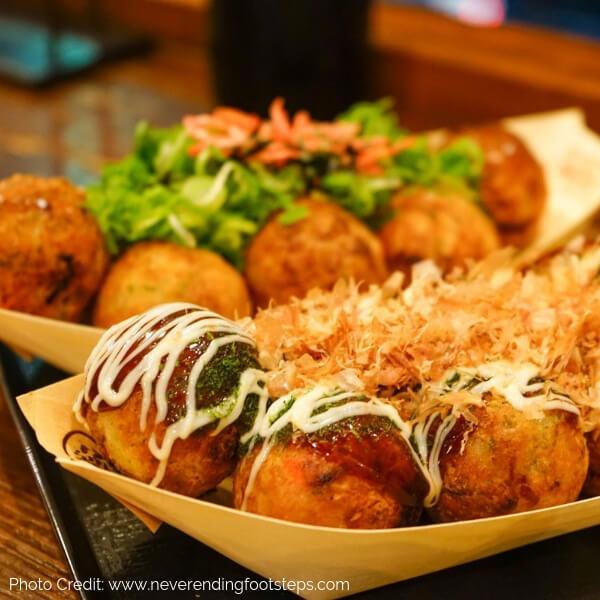 Takoyaki
One of Tokyo's must try foods is takoyaki (octopus balls), a popular street food grabbed for a quick meal or as a snack by our locals. At almost all traditional Japanese festivals (summer festivals, fireworks, hanami, New Years festival), you'll find takoyaki stalls. It's common throughout Japan so you might already know it, but takoyaki is a small ball made of batter with a piece of octopus inside. I like it best when it's soft on the inside and crispy on the outside. It's usually served with some takoyaki sauce (a kind of brown sauce) and mayonnaise (optional), then finished with dried bonito and seaweed powder. If you are wondering where to eat in Tokyo then I would suggest my favourite and easy to find takoyaki shop (some shops have eat-in space) - Gindaco. They have many shops in Tokyo and in the other prefectures also. For your takoyaki, you can choose to add some seasonal toppings such as eggs and spring onions. You can also find them in some supermarkets, but the fresh hot ones are the best! Osaka is famous for its takoyaki, so if you are planning a Tokyo street food tour, you have to try local takoyaki as its thought to be the best in Japan!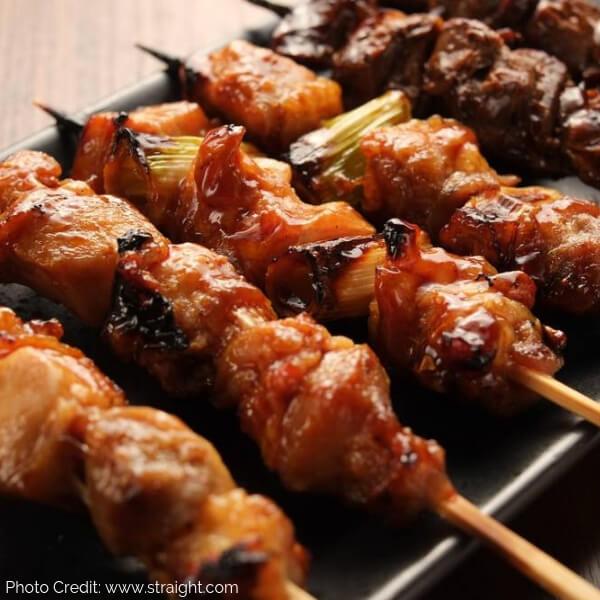 Yakitori
Have you ever heard of yakitori? This staple of grilled skewered chicken is one of the best street foods in Tokyo but also a popular main dish, and there's many kinds depending on which part of the chicken we use. We have mono (thigh), hats (heart), bonjiri (rump/tail) and nankotsu (cartilage) to name a few! And usually there are two choices for the flavour; soy sauce or salt and pepper. You can also have grilled skewered vegetables, pork, beef, so yakitori joints are also suitable for vegetarians or people who can't eat chicken. You can get this dish to take away and eat in a park or on the go, but this Tokyo food is also popular on menus in izakaya (Japanese gastropubs or drinking houses). There is a good old yakitori shop called Iseya in Kichijoji near the famous Inokashira Park that's always busy with locals and tourists, but sitting and eating yakitori from Iseya in the park is the best for a picnic lunch or to enjoy while you're drinking beer in the evening!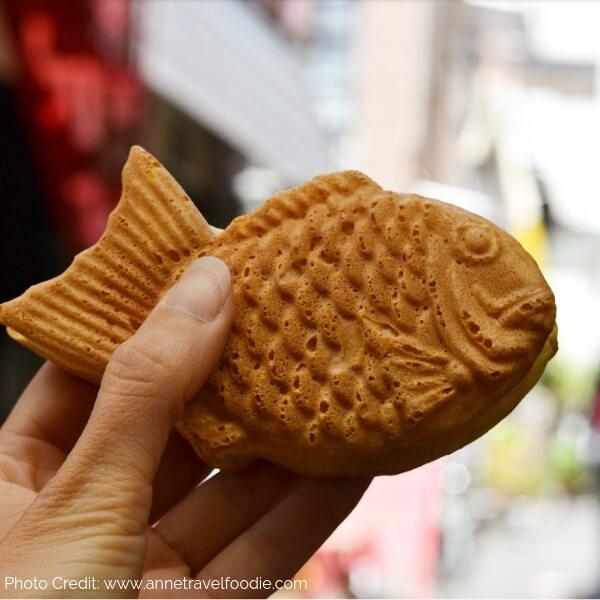 Taiyaki
For "street sweets", please try taiyaki- another one of Tokyo's must try foods. Taiyaki, a fish-shaped pancake filled with red bean paste has been loved by Japanese locals since the Meiji period. Originally they were filled with red bean paste, but nowadays you can find a variety of taiyaki such as custard cream, chocolate cream, sweet potato cream, cheese, and matcha dough, but they're all best served when fresh and warm! They are all good in my opinion so try any version you like! If you want to try authentic, original style taiyaki in Tokyo but don't know where to eat it in Tokyo, Teriyaki Wakaba (less than 10min walk from Yotsuya station) is the place. They have been making taiyaki for more than 100 years. If you feel like trying it during your sightseeing, pop in to Kurikoan in Asakusa. It is located in Nakamise (shopping street) so you can actually try one on your way to the famous Sensoji.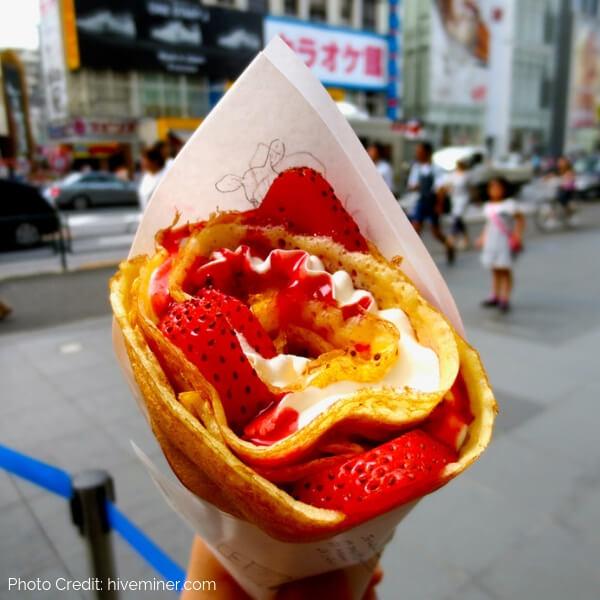 Crepe
I know crepes don't sound Japanese, but I promise they're massively popular and possibly one of the best street foods in Tokyo - and they are not the same as the French crepe! We have crepes with ice cream (matcha ice cream too!), hot crepes with cheese, chicken or curry, and some seasonal ones that are truly unique. Just in case you can't make your mind up, sweet crepes filled with whipped cream, chocolate sauce and bananas or strawberries are the most popular ones here, so if in doubt, go with this local favourite Tokyo food. You'll find the most crepe shops and locals enjoying these treats on the streets of Harajuku (Takeshita Street) - there's about 10 crepe shops here including the oldest ones (opened in 1970s). Angels Heart and Strawberry House, Marion Crêpes, Santa Monica Crepes are all located in Harajuku area and they have more than 50 different varieties to choose from! They're quite filling, so if you want to grab a quick lunch, why not try Japanese crepes?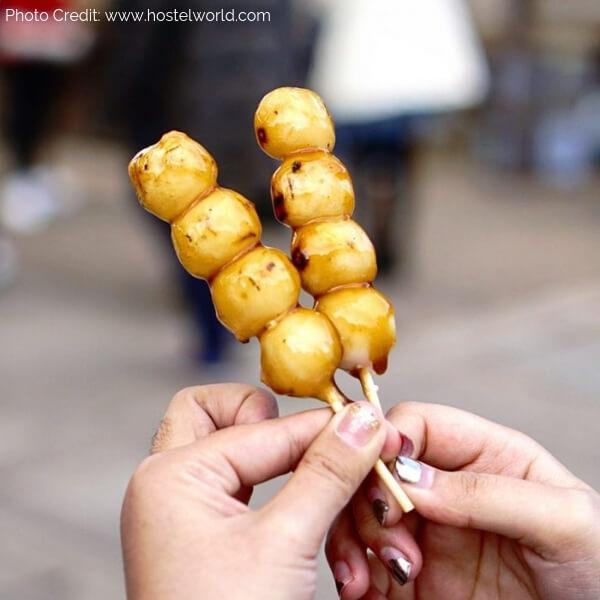 Dango
Let me introduce one of the oldest Tokyo foods that you can find on the streets of Japan, dango, which has more than 1000 years of history. Dango is a dumpling made from rice flour that's usually covered with sweet soy sauce (mitarashi) or red bean paste (anko). As some of you may know, dango is Tokyo's must try food for hanami (cherry blossom viewing), so everyone buys it in hanami season. If you want to try authentic dango, make a trip to Oiwakedango in Shinjuku (Shinjuku-sanchome station is the nearest). They serve a variety of dango and other traditional Japanese sweets, and you can get it to take away or eat in. My favourite is their original dango with strawberries and anko! Another spot I would recommend is Habutaedango in Nippori. It has a long history and has been going since 1819, and one of my favourite Japanese literary legends, Soseki Natsume also liked their dango. If you don't have time to go to these shops but want to know where to eat it in Tokyo, you can find it in konbinis and supermarkets too!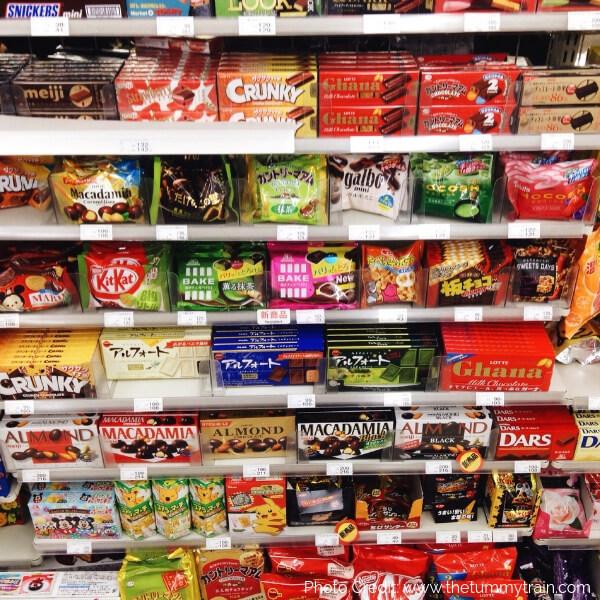 Konbini Food
Some of you may say hey, it's not really street food. Yes, konbini are convenience stores, but it's a uniquely Japanese thing that when we think of getting street food or snacks, we often choose to go to a konbini. For an authentic experience during your Tokyo street food tour, I would suggest popping into one. Their fried chicken, croquettes, nikuman (meat buns), onigiris (rice balls) and sweets are not bad for the price, and these shops are very convenient to pick up street food anytime, anywhere (they open for 24 hrs, 7 days!). The biggest konbini groups are the well known 7-Eleven, Familymart, Lawson and Ministop, and you can find one of these wherever you are in Tokyo. Each konbini has their own unique menu, but they all serve the foods listed above (although some don't have nikuman in summer). So try different versions from each konbini and find your favourite Tokyo food!
Popular Tokyo Experiences
Select an experience and let one of our Hosts personalise it to what you want to see & do