How does it work?
1

Tell us about you!

Once you book, fill in a quick questionnaire and tell us what you'd like from your experience.

2

We introduce you to your perfect local

Build your perfect experience together

3

The best part!

Experience the city like you would with a knowledgeable friend living there
Would you like to speak to someone?
If you're unsure about what experience to book or would like more information on how it all works, just email me here. I or someone from our Customer Experience Team will get in touch so we can suggest the perfect personalized experience for you.
If you prefer to speak to someone, feel free to send us your WhatsApp or cell number and we'll give you a call back.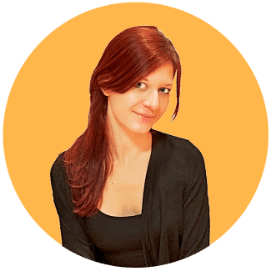 Anna Kerekes
Anna Kerekes | Co-founder
Reviews for this experience
A New Best Friend
Sarah was the single most wonderful tour guide I have had in my lifetime of travelling (36 countries & counting)! My boyfriend and I toured Edinburgh with her for an afternoon, and she was very knowledgeable and friendly! We learned so much about the city in our 4 hours with her. In the end, it felt like we truly made a new best friend. I cannot say enough about Sarah and highly recommend her for anyone looking for a fun and informative tour guide while in Scotland. Grazie mille, Sarah!
January 2018
Learning about Edinburgh
I took a full day private tour of Edinburgh with Roxana. I had a great day learning all kinds of interesting details about the city. Edinburgh is full of mystery and beauty, almost trapped in time. Roxana's passion for the city brought this all to life. with great stories and special locations, I learned as much as I enjoyed. CityUnscripted was also great with the booking process and were quick to reply to all my questions. I recommend using them and asking for Roxana, you won't be disappointed.
Must see Edinburgh with a local
I had a great full day private tour with Roxana my guide. I can honestly say I learned a lot about both Edinburgh and medieval history. All in all it was a wonderful experience. Thanks
Child-Friendly Tour with a Local Friend
My family and I (husband and two daughters ages 9 and 11) really enjoyed our walking tour with Alana. She is lovely to spend time with and was so interesting to talk to. She showed us all the places we requested and told us things about Edinburgh that we certainly would not know if we were not locals. I highly recommend going on a tour with her!
Can't find the right experience for you?
Just because it's not here doesn't mean we can't offer it.
Get in touch and the City Unscripted team and hosts will help create the right experience for you.
Any questions?
If you're unsure about anything you can
reach us on any of these channels.