How does it work?
1

Tell us about you!

Once you book, fill in a quick questionnaire and tell us what you'd like from your experience.

2

We introduce you to your perfect local

Build your perfect experience together

3

The best part!

Experience the city like you would with a knowledgeable friend living there
Would you like to speak to someone?
If you're unsure about what experience to book or would like more information on how it all works, just email me here. I or someone from our Customer Experience Team will get in touch so we can suggest the perfect personalized experience for you.
If you prefer to speak to someone, feel free to send us your WhatsApp or cell number and we'll give you a call back.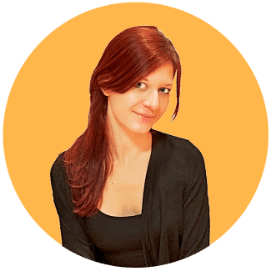 Anna Kerekes
Anna Kerekes | Co-founder
Reviews for this experience
Great evening tour with Jorge
I had a fantastic evening experience in Madrid with Jorge. Starting with a chilled walk through some of the parks and ending with food and drinks in one of the more alternative neighbourhoods, I managed to see the city as only a local would. Highly recommended!
June 2017
City tour with Silvia
My mother and I toured with Silvia on our first day in Madrid. She is very friendly, full of energy and provided us with her inside view of 3 neighborhoods (Salamanca, Malasaña and Centro). She took us off the touristy streets and it made the tour more personable. She also took us to one of her favorite lunch spots...La Pescaderia. It was delicious and very reasonable. If you're looking for an overview of the city, I highly suggest requesting Silvia!
Wonderful company with Silvia
My son, his wife and I had a WONDERFUL evening with Silvia. We walked through her neighborhood, visited some tapas bars, went to a gallery, and stopped at a tea and spice shop. The highlight of our evening was sharing wine and dinner at one of her favorite restaurants. We could have talked for hours, but time was running very late and she had an early flight in the morning. A FANTASTIC TIME WITH SILVIA!
Uma Visão Geral de Madri
Minha experiência começou alguns dias antes da data marcada para o tour, sendo que Nicola, que foi responsável por me guiar no tour, me enviou emails me explicando em detalhes como iriamos nos encontrar, e uma sugestão de intinerário. Na hora marcada, começamos o passeio por Madri. Tive a oportunidade de conhecer vários detalhes históricos dos principais edifícios e ruas da cidade. Além disso, Nicola me levou a dois mercados para que eu pudesse experimentar um pouco da culinária local... o sanduiche ramón é imperdível, como também as croquetas!!! Para finalizar, uma passada por alguns dos museus da cidade, com destaque para o Museu do Prado. Bem, foi um dia agradabilíssimo, com o encontro de mais um amigo. se recomendo, claro, com certeza!
Can't find the right experience for you?
Just because it's not here doesn't mean we can't offer it.
Get in touch and the City Unscripted team and hosts will help create the right experience for you.
Any questions?
If you're unsure about anything you can
reach us on any of these channels.