How does it work?
1

Tell us about you!

Once you book, fill in a quick questionnaire and tell us what you'd like from your experience.

2

We introduce you to your perfect local

Build your perfect experience together

3

The best part!

Experience the city like you would with a knowledgeable friend living there
Would you like to speak to someone?
If you're unsure about what experience to book or would like more information on how it all works, just email me here. I or someone from our Customer Experience Team will get in touch so we can suggest the perfect personalized experience for you.
If you prefer to speak to someone, feel free to send us your WhatsApp or cell number and we'll give you a call back.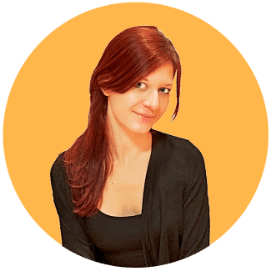 Anna Kerekes
Anna Kerekes | Co-founder
Reviews for this experience
A fabulous day with Simone in Barcelona
Simona was a fantastic host, and planned the day completely around us, adapting it as we went along depending on our needs, and the changes in the weather! She was full of enthusiasm for this fantastic city and we packed a huge amount into a day without at any point feeling rushed.
October 2019
Few days in Barcelona
Karla was excellent! This was my first time in Barcelona and we managed to cover a lot in one day. She was friendly, helpful and knowledgeable and made me feel welcomed. I will definitely recommend Karla and City Unscripted to whoever wants a personalized experience in Barcelona.
September 2019
Relaxed walking afternoon
Jonathan is a true local, he knows all the "traps and catches". With his advices we ate well and cheap, and he taught us what locals drink (caffe con gello, vermut.. ;) ). He is very talkative so one can never be bored. Time flew quite fast. If you are in search for a relaxed walking tour through the Gothic area with breaks at local bars and tips for good and affordable food, look no further!
July 2018
Brilliant tour by Jonathan
We had an 8 hours walking tour with Jonathan. From our initial meet and greet moment, he was very welcoming. It definitely felt like a stroll through Barcelona key attractions and areas with a friend. The best thing about it was we walked without any rigid plan and we could spend as long as we wanted at any given venue. Jonathan was frank enough to say he didn't know answers to all of the questions cos principally he is a "host" not a professional 9-5 tour guide! We really appreciated this. Apart from the obvious key tourist attractions, Jonathan will also show you more localized places that the true locals visit too if you so wish. Overall a highly recommended walk tour and more specifically Jonathan is the host for Barcelona!! Great stuff!!
Had fun with Karla!
We met our local guide, Karla after we finished our tour of Familia Sagrada. We took a taxi to the El Born district and then started our walking tour. She showed us the area, talked about it, we took pictures and tried some local food and drink. She was very personable and fun, we had a great afternoon with her! I'd recommend doing this to anyone who wants to learn a bit more about Barcelona and walk to see the area.
Interesting tour with engaging host
We enjoyed a relaxing walk through the gothic quarter and a local park with Karla. The experience was excellent, kids enjoyed it and took away some of the stress of visiting a city with kids. Karla made some excellent suggestions of things to do and places to go, including a marvellous tapas restaurant.
Can't find the right experience for you?
Just because it's not here doesn't mean we can't offer it.
Get in touch and the City Unscripted team and hosts will help create the right experience for you.
Any questions?
If you're unsure about anything you can
reach us on any of these channels.