10 Reasons To Visit Tokyo
By Kathryn Foley
Do you want to visit Tokyo? Of course you do. But perhaps the thought never even crossed your mind - so if this is the case then you need to add the world's largest city to your bucket list, immediately. With so many things to do in Tokyo, it's no wonder the rest of the world looks at Tokyo in awe. As far as city destinations go, it has everything; some of the best food in the world, a pace that never feels like it moves slower than a sprint and a unique meeting of ancient traditions and the most ultra-modern culture of anywhere in the world. You'll struggle to find anywhere else quite like it, but if you're still not convinced, here are 10 reasons why you should visit Tokyo.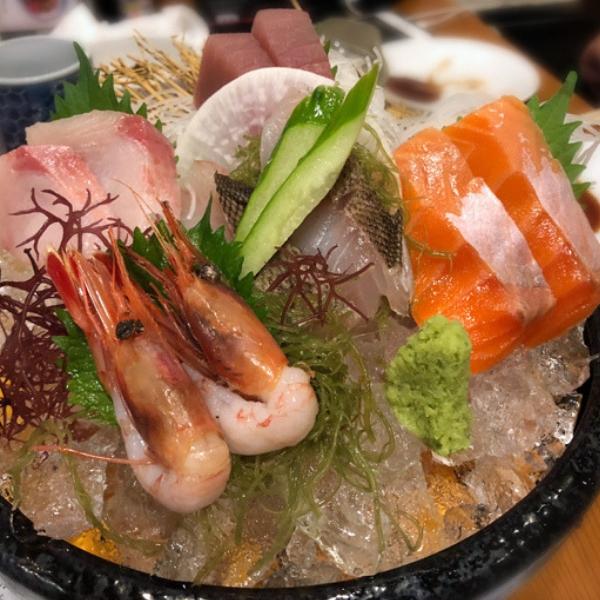 Some of the best food you'll ever eat
Let's start with the important stuff. Which is Tokyo's food, obviously. The city is bursting with flavours and dishes you could never get bored of, and once you've had a taste of sushi that's been expertly prepared before your eyes or ramen that's effortlessly thrown together after hours of hard work behind the scenes, there's no going back. The best part is, in a notoriously expensive city you don't actually have to spend a fortune to get your chopsticks around some of the best Tokyo food. This being said, this is the city with the most three Michelin starred restaurants in the world (show offs), but you can eat your way around Tokyo on a shoestring too if you're adventurous enough! Just choose somewhere that's packed out with locals and probably near a train station, throw caution to the wind and order what they're having, even if you're not entirely sure what it is.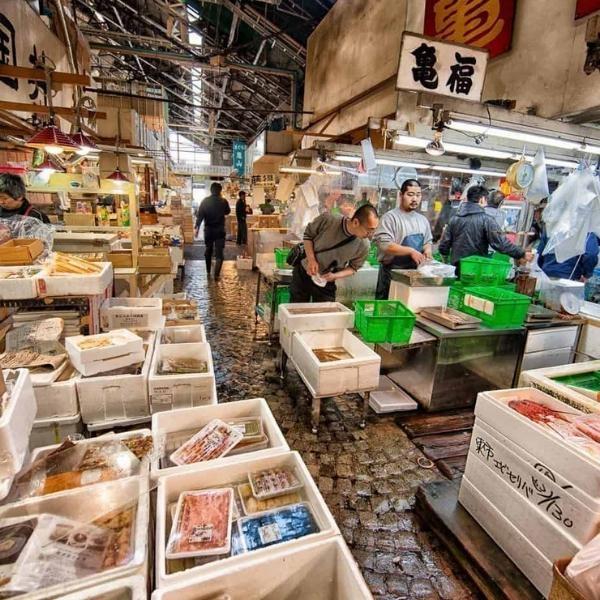 You probably won't need us to tell you that a trip to Tokyo is pretty much a pilgrimage to food heaven, but just in case you need any extra encouragement, the city is also home to the biggest fish market in the world so some of our favourite spots for the freshest sushi are in the area around Tsukiji Outer Market and Toyosu Fish Market. You could dedicate a lifetime to the search for the perfect bowl of ramen, to finding your favourite hawker selling traditional street food like yakitori or to the quest for the best local yakiniku spot - and a trip to Tokyo is the perfect starting point.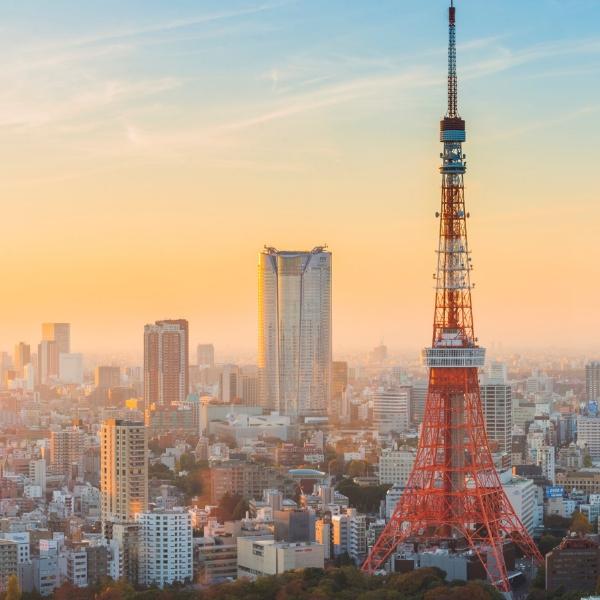 It's not as expensive as you think
People often say, 'oh, I'd love to visit Tokyo but it's so expensive!' Wrong. There are plenty of deals to be had on flights, incredible cheap eats to enjoy while you're there - you don't have to blow your budget to experience the main Tokyo attractions - it costs nothing to get lost in the madness of Shibuya Crossing, be swept along in the crowds on Takeshita Dori or take a step back from it all and relax in a Zen garden or visit a temple or shrine. Getting a place on airbnb can be much cheaper than a hotel, and if you stay just outside the major districts in the gateway to suburbia, somewhere like Ikebukuro you can grab a decent deal. Pro tip - some of the best restaurants are in places like this, with no signs, nothing to entice you inside but always packed with people coming and going from the nearby station. If you can find a bargain flight (which admittedly means looking outside of peak sakura season in the spring), a trip to Tokyo will can cost around the same as a city break to New York or London. So why not try somewhere new this year?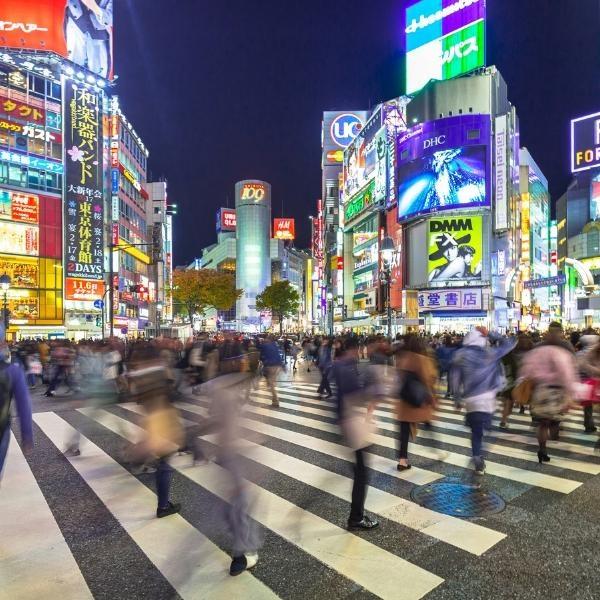 Leave your comfort zone
If you're used to city breaks in Europe or the US but have always fancied a trip to an Asian city, Tokyo is the perfect place to start! It may be a little further afield than other destinations on your bucket list, but that's all part of the experience. Tokyo is a great choice if you want to discover a totally new culture in a different style of city, and if you're a Westerner it's pretty much the closest you'll get to experiencing another planet! There's nothing quite like not being able to read the street names or knowing exactly what you've ordered for lunch, right? And there's so much to love about Tokyo that may surprise you for such a huge metropolis - like despite the fact that it's the biggest city in the world, it's also one of the safest. Don't be surprised to see people leave their mobile phones and laptops on the table when they go to the bathroom. The city also has the most efficient public transport system in the world - seeing the bullet trains will make you feel like you've stepped into the future. And with so many secret places in Tokyo to discover, you sometimes might not be sure where you've found yourself.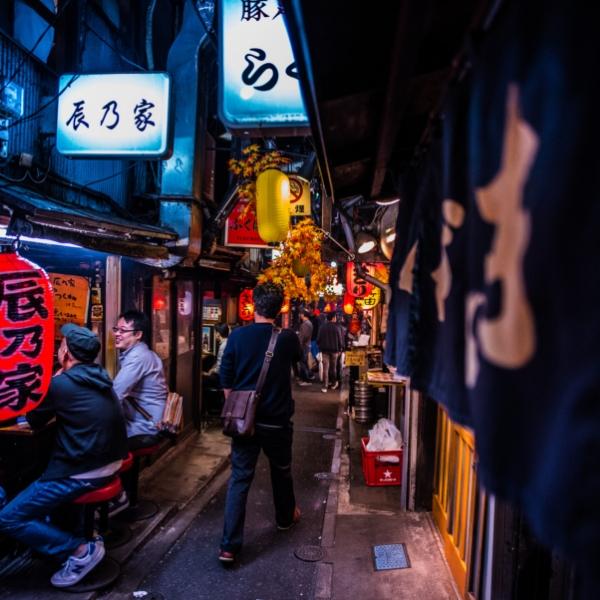 Izakaya culture
From the smallest, 10 seater bars run by someone's grandma to big, exclusive ones, izakaya are ubiquitous in Japan and definitely one of the major Tokyo points of interest. In case you're not sure, izakayas are drinking houses which offer a menu of small, delicious dishes to share while drinking; think of them as the Japanese version of a tapas bar. Izakaya literally means "stay-in sake shop" so traditionally this was a place where you could sit and drink on the premises. In today's izakayas the locals order food and drink and hang out with friends and colleagues for an evening. It is a good idea to arrive hungry and spend at least a couple of hours seeing the locals socialize. A lot of izakaya have their own specialty dishes and if you see the locals eating something you fancy don't be afraid to ask the server. But otherwise there are the usual staples and it is worth trying yakitori, gyoza, ikayaki, korokke, yakisoba, karaage, tebasaki and if you're lucky to be in one of the few that serve delicious chicken wings stuffed with gyoza (tebasaki-gyoza) then get some!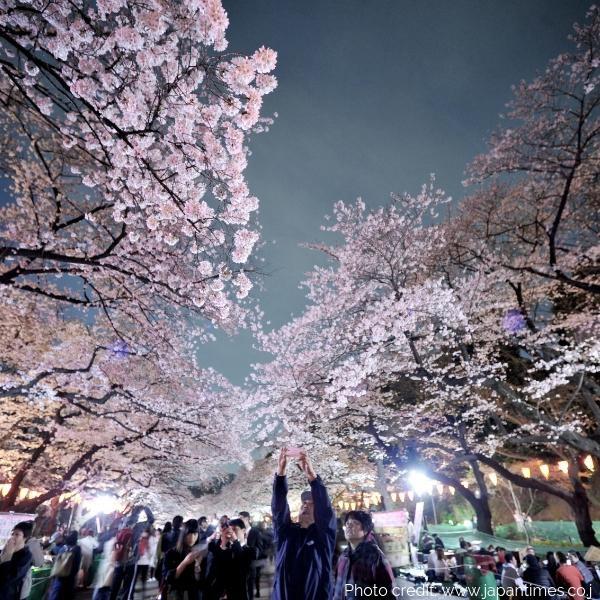 Sakura in spring
You could write poetry dedicated to the beauty of the cherry blossoms, or sakura, in Tokyo which bloom every spring. Okay fine, maybe not poetry. Unfortunately, many of us are not quite as talented as Matsuo BashĹŤ (As everyone knows, he is one of the most famous poets in Japan and a master of haiku), but you get the idea; timing your trip to Tokyo to coincide with hanami season is reason enough to visit. Hanami literally means blossom viewing, and it's without a doubt one of the most magical Japanese traditions and a must when scouting out things to do in Tokyo. Locals head to breathtaking hanami spots like Ueno Park, Chidorigafuchi or the Meguro River to enjoy a picnic under the blossoms, stroll along pathways draped in 800 cherry trees or even row a boat at Chidorigafuchi to see these ethereal explosions of pastel pink. And enjoying the sakura isn't just for during the day! Viewing the cherry blossoms at night is known as yozakura, and it might just be even more impressive! Depending on where you go, the trees could be lit by simple, traditional lanterns or by colourful light displays, and you'll also find street food stalls at some, which creates a festival-like atmosphere. If you are looking for things to do in Tokyo at night, then the weeping cherry trees at Rikugien are a must see at night, when the petals are illuminated and the trees look as though they're floating.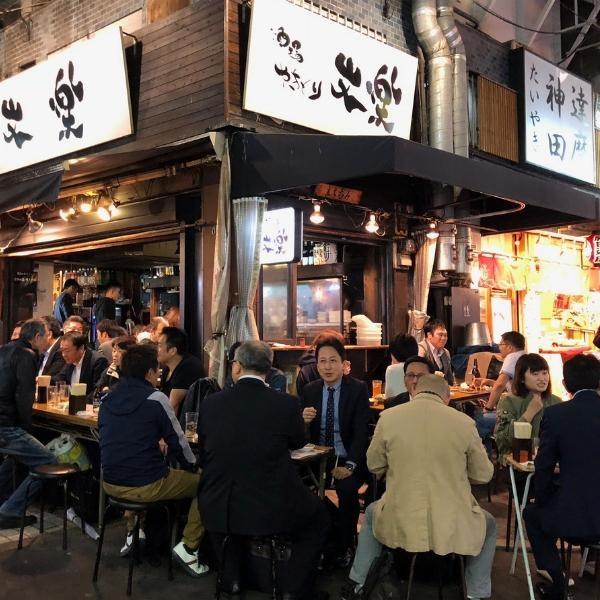 Unique bar culture
Bar culture as we know it in the West doesn't really exist in Japan, but there are still areas of the city that are packed with completely unique and sometimes pretty off the wall spots to check out if you are looking for things to do in Tokyo at night! Every city has its own way of doing things when it comes to bar culture, but Tokyo has to be one of the quirkiest. From neighbourhood, hole in the wall tachinomiya (standing bars serving izakaya style food) to eccentrically themed cocktails bars to Golden Gai, home of some of the tiniest bars in the city. Tokyo's drinking dens are certainly unlike anything you'll have ever experienced before! Do your homework before you arrive and choose a neighbourhood or yokocho to bar hop your way along. Yokocho literally refers to alleyways off a main street - so you can find them even in the most hectic areas like Shinjuku. But squeeze into the narrow passage and you'll be transported a few decades back - these streets are where you'll find bars reminiscent of a different era. You'll find nothing on a menu or sign in English, every one of the tiny bars which jostle for space alongside one another are always packed with locals stopping for a few drinks after work, and it can get pretty wild as the night goes on!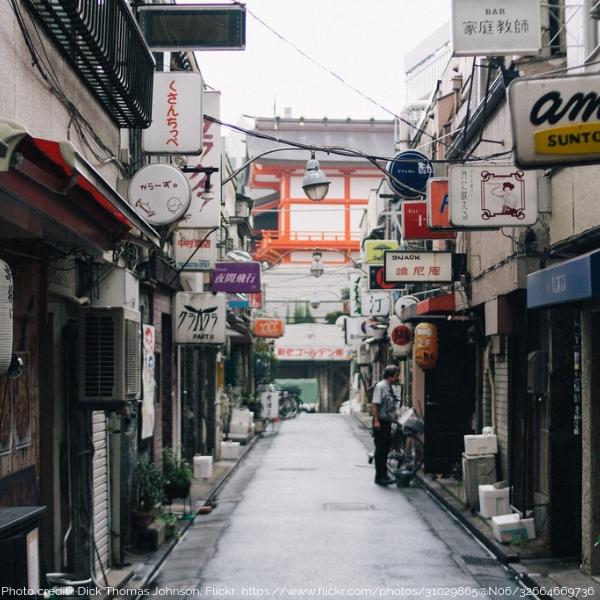 Spice up your trip to Tokyo with a stop at Golden Gai, an area which has claimed the title of most bars per square metre (quite an achievement); there's more than 200 ramshackle local bars squeezed into this tiny area! Each one is totally unique, so an evening here will be one of the most distinctive bar crawls you've ever had (and the crawling part only requires one or two steps to get from bar to bar). A couple of favourites here are Brian Bar and Red Bar, where you'll certainly have to squeeze in - climb upstairs where there is enough space for just a two seater sofa, but if you're looking towards it and walk backwards you might just fall through the huge hole in the floor, so maybe don't make this one your last stop of the night.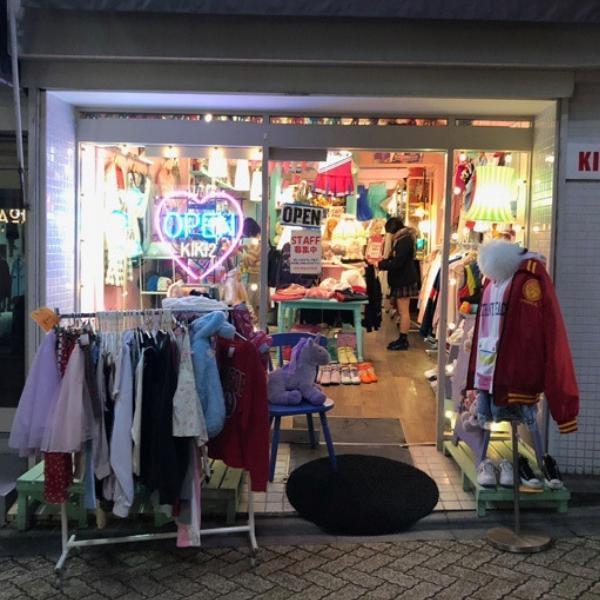 Fashion
Tokyo is a fashion mecca for anyone interested in original, avant-garde or quirky fashion, but it can certainly be hard to keep up with the impossibly fast paced changes in trends! From classic Japanese chic to futuristic outfits that look like the wearer has stepped straight out of the screen of an anime film, there are more fashion styles, cultures and subcultures here than you could ever have thought possible. You'll witness Tokyo's incredible, weird and wonderful street style anywhere in the city, but see the latest trends, head to Harajuku or Shibuya, which have become catwalks for the locals to show off exactly what's in vogue. Whether you want to shop Tokyo's street style for yourself, or marvel at what the locals are wearing, fashion is one of the top Tokyo attractions and checking it out will certainly inspire you in one way or another.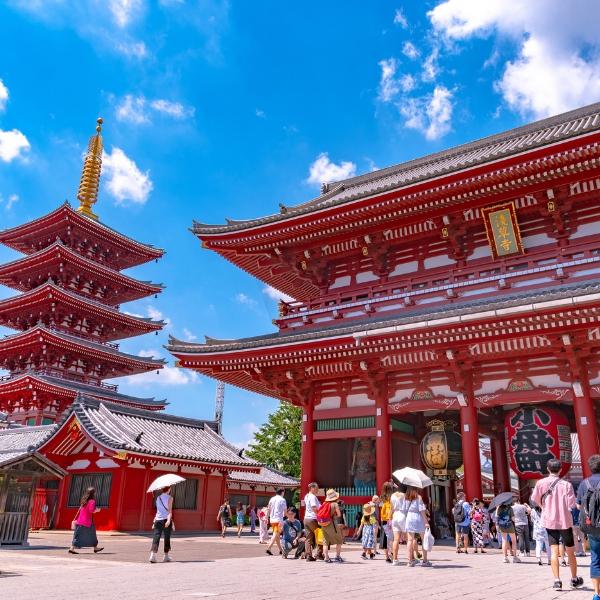 City of contrasts
With so many things to do in Tokyo it is little surprise that you will find ultra-modern, high rise shopping complexes just a stone's throw from ancient temples. The city is dotted with exquisitely designed temples and shrines nestled amongst some of the most cutting edge architecture on the planet, of tiny local eateries that look like they've been open forever nearby upmarket contemporary Michelin starred restaurants. The contrast between old traditions and the new Tokyo is what makes this city so special. You can spend a morning shopping in some of the most innovative gadget stores in the world, selling products you never even knew were missing from your life until you saw them, followed by an afternoon of reflection in beautifully landscaped gardens or soaking up the history at some of Tokyo's most iconic shrines. Whether you're looking for the most up to date, cutting edge electronics, or to experience some of the more secret places in Tokyo, this city has got you covered.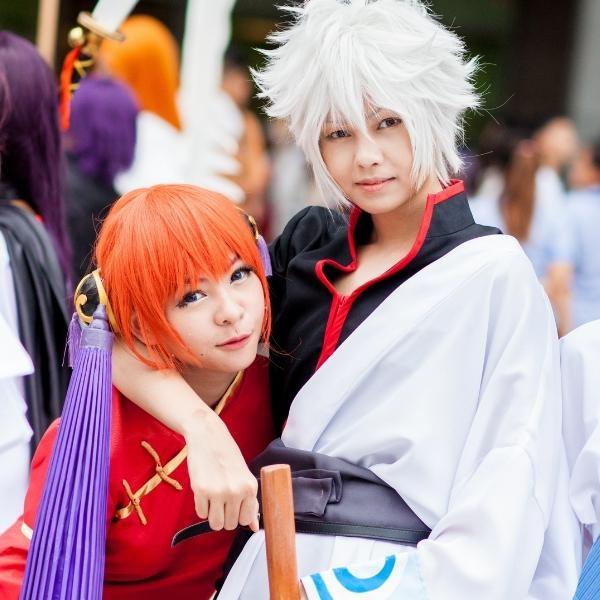 Gaming culture
Even if you're not into video games, Tokyo's gaming culture is fascinating and its game arcades are so huge, you're likely to find at least one that you'll enjoy having a go at. As the birthplace of PlayStation and the spiritual home of classic characters like Mario, it's no surprise that Tokyo is a nirvana for any gaming fanatic, and that's before you even start exploring its gaming subcultures like otaku, which describes someone who is a fan of art and gaming subcultures, like anime and manga. If you are looking for interesting things to do in Tokyo, head to Akihabara or Nakano Broadway for a serious culture shock and a glimpse into this weird and wonderful world! The former is probably Tokyo's most famous otaku district, and as well as massive arcades where you could spend a whole day (if you're that way inclined!), there's stores selling second hand games that you probably remember from your childhood, while the latter is a shopping complex where you'll find absolutely anything you could possibly imagine relating to anime, manga, cosplay and Japanese pop culture. Another uniquely Japanese subculture you shouldn't miss out on experiencing is purikura, which are essentially photo booths where you can add filters and frames - many teenage girl's dream, but make great memories of your trip regardless of age or gender, and the crazier the filter the better.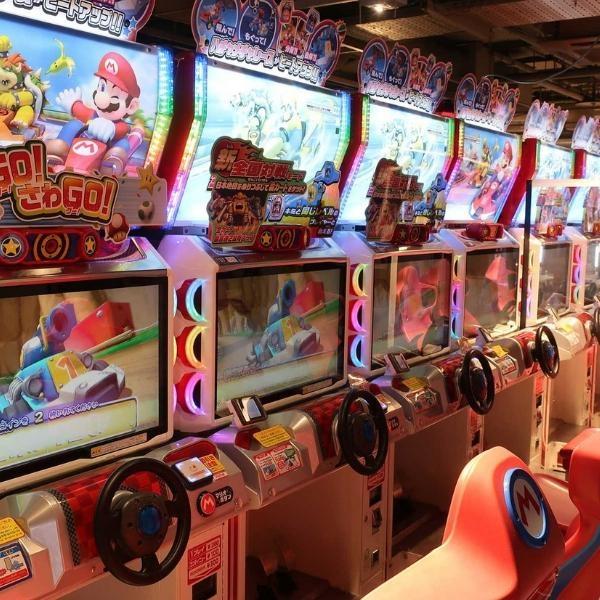 Electronics
Japan is renowned the world over for being ahead of the game when it comes to technology, and visiting one of the hundreds of electronics shops will show you just how far ahead they are! The Akihabara district, which is the heart of Tokyo's tech scene and a must-see when visiting Tokyo, feels like stepping into a sci-fi film thanks to its futuristic architecture and neon lit arcades, and it's no surprise that the area is also known as Akihabara Denki Gai, literally meaning Akihabara Electric Town. Head to Yodabashi Camera for some unbelievable bargains or simply to get lost amongst all the gadgets! The fourth floor is a dreamland for any photography aficionados - completely dedicated to cameras and camera equipment, they have every latest camera, tripod and lens on display. You could spend hours in this store and probably still not see everything. Just don't forget your passport as you can shop tax free if you have it with you.
Popular Tokyo Experiences
Select an experience and let one of our Hosts personalise it to what you want to see & do