How does it work?
1

Tell us about you!

Once you book, fill in a quick questionnaire and tell us what you'd like from your experience.

2

We introduce you to your perfect local

Build your perfect experience together

3

The best part!

Experience the city like you would with a knowledgeable friend living there
Would you like to speak to someone?
If you're unsure about what experience to book or would like more information on how it all works, just email me here. I or someone from our Customer Experience Team will get in touch so we can suggest the perfect personalized experience for you.
If you prefer to speak to someone, feel free to send us your WhatsApp or cell number and we'll give you a call back.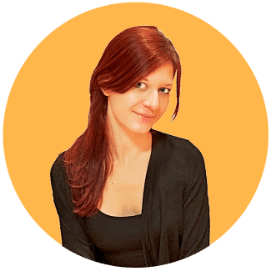 Anna Kerekes
Anna Kerekes | Co-founder
Reviews for this experience
Toured War Museum and Roman Ruins
My father is in a wheelchair and had specific places he wanted to go. I asked for a guide who could be sensitive and supportive of his needs. Ana Maria was fabulous! She knows the city, adjusts quickly to changing needs, and has a get-to-yes attitude. She helped me learn how to navigate the cultural and logistic issues of traveling around London and England. I am so glad that I reserved this tour - made the rest of the trip so much better in so many ways!
September 2019
London in a Day
Ana Maria is very knowledgeable and was very accommodating on designing the tour based on my likes and interests. Perfect to see London in one day!
June 2019
A delightful tour customized to our interests
We had four adults on our tour, and the first thing that our guide, Ana Maria, did was to make sure she knew what we were all interested in. I appreciated this, because only ONE person filled out the pre-tour survey! Based on our answers, she modified the plan and we visited places that everyone in our group enjoyed. We commented over and over that we saw and learned so many things that we would have missed without Ana Maria as a guide. And even though I had studied abroad in London we saw and experienced things that I had not seen or experienced before. A really great investment of your time and money - highly recommend!
June 2019
Can't find the right experience for you?
Just because it's not here doesn't mean we can't offer it.
Get in touch and the City Unscripted team and hosts will help create the right experience for you.
Any questions?
If you're unsure about anything you can
reach us on any of these channels.