How does it work?
1

Tell us about you!

Once you book, fill in a quick questionnaire and tell us what you'd like from your experience.

2

We introduce you to your perfect local

Build your perfect experience together

3

The best part!

Experience the city like you would with a knowledgeable friend living there
Would you like to speak to someone?
If you're unsure about what experience to book or would like more information on how it all works, just email me here. I or someone from our Customer Experience Team will get in touch so we can suggest the perfect personalized experience for you.
If you prefer to speak to someone, feel free to send us your WhatsApp or cell number and we'll give you a call back.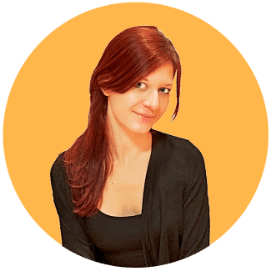 Anna Kerekes
Anna Kerekes | Co-founder
Half day
Half Day In Milan With A Local
Milan, Italy

4 hours

from €35.00 EUR per person
Introduction to the city
Kickstart Your Trip To Milan
Milan, Italy

3 hours

from €32.50 EUR per person
Food & Drink
Eat Like A Local In Milan
Milan, Italy

3 hours

from €71.88 EUR per person
Day Trip
Day Trip To Enchanting Lake Como
Milan, Italy

8 hours

from €95.50 EUR per person
Food & Drink
The Art Of Milanese Aperitivo - Drinks and Appetizers On The Navigli Canal
Milan, Italy

3 hours

from €49.38 EUR per person
Shopping
Milan Shopping Experience
Milan, Italy

3 hours

from €32.50 EUR per person
Reviews for this experience
MILAN, FULL DAY IN MILAN WITH A LOCAL

Gregory

5 average | 12 reviews

September 2018
Booked a Local to see Milan
Gregory Valente was our wonderful local host in Milan for our four hour walking experience in the city. Greg was fantastic by taking us to all the places we wanted to check out plus several that we did not even know about. Greg met us right on time at our hotel and got us to our afternoon experience that we had booked right on time as well. We even got to ride the street car and subway with Greg which for us is always fun to travel like a local. It was nice getting a break from the walking by stopping for a local lunch with Greg as well. We loved our time in Milan and Greg was great. Highly recommend!!!
MILAN, FULL DAY IN MILAN WITH A LOCAL

Marco Michele

4.9 average | 26 reviews

August 2018
Best day in Milan with Marco!
Marco was so welcoming and couldn't have been more helpful. It was great to get to know milan with a true local.
MILAN, FULL DAY IN MILAN WITH A LOCAL

Marco Michele

4.9 average | 26 reviews

May 2018
City experience of Milan
We had a wonderful day with Marco. A delightful young man, who has a comprehensive knowledge of his marvellous and most interesting city. We thoroughly enjoyed everything. A visit to a "surprise" green and tranquil garden (plus tortoise) where we sat and could see the elegant and historic surrounds, was truly delightful. (Sant"Agostino-Genova) . Also the Olmetto-Piazza Vetra was awe inspiring, historically and amazing. I would additionally like to mention the majestic house and garden, the Palestro Milan - serene and beautiful, as indeed are all the gardens and green areas that we saw. Of course we have to mention the fabulous Duomo Cathedral but due to the crowds and the length of time it would take to join the considerable line for admittance, we opted to take Marco's advise and get up early the next day which we did and had an overwhelming inspiring marvel at the beauty of this wonderful cathedral. We thoroughly recommend Marco to anyone else lucky enough to enjoy his knowledge of a wonderful city.
MILAN, FULL DAY IN MILAN WITH A LOCAL

Marco Michele

4.9 average | 26 reviews

April 2018
Had Just one day to see Milan
I really feel like I saw so much of the city! We saw several churches, saw the last supper painting and beautiful courtyards I would have never found on my own. We had some lunch and did some shopping. He was even kind enough to carry the bags so I could take pictures. I finished the day with so much knowledge and a lot of great photos. Thanks Marco!

MILAN, FULL DAY IN MILAN WITH A LOCAL

Dilara

5 average | 2 reviews

August 2017
Great for new residents
My daughter and I spent a full day with Dilara Dagli, who was a wonderful guide. Our custom tour was a different from the typical tour, in that it was not just to "sight-see". My daughter was beginning a semester as an exchange student at Bocconi University, so we were looking for someone local to help orient her in the city, the transit system, and the areas a student would want to be aware of. Dilara was extremely flexible and helpful-- by the end of the tour, my daughter could comfortably navigate the metro & trams, knew the closest Bankomat, grocery store, cellphone store & the U.S. Embassy. We also walked from the university to her new residence hall, and were even able to get a Transit card for my daughter to use during her stay. Finally, Dilara also showed us some of the fun spots in the city that the students go to, and we enjoyed a nice meal together. Some of the other top tour companies in Milan could not accommodate this special tour, but Dilara from CityUnscripted really did a terrific job, and exceeded our expectations!
MILAN, HALF DAY IN MILAN WITH A LOCAL
October 2019
Marco was wonderful
It was wonderful to be guided by a very knowledgeable local. Went to several interesting places and my interests were met.
MILAN, DAY TRIP TO ENCHANTING LAKE COMO
September 2019
Nice day with our guide Marco
The lake is beautiful and we learned more about Milan and the famous Lake Como. Our guide gave us a wonderful day well adapted to our situation. All our expectations have been met. Journée très agréable, sûrement la plus belle de nos vacances. Guide très gentil et très intéressant.
MILAN, EAT LIKE A LOCAL IN MILAN
September 2019
Foodies tour of Milan
We had the most amazing time on our Foodies Tour of Milan. Our guide Gregory was an absolute delight who took as around some amazing sites of Milan and dazzled our culinary taste buds. It was a great way to learn how to navigate our way around Milan by foot and also sample some of the amazing food delights. There were 4 of us on our foodies tour and two of the group are nearly age 70 and found the walking tour not too exhausting and very easy to manage so this really does make it a good tour for all age groups. Gregory also met us at our apartment accommodation which was fantastic to start our tour from there. Gregory was an outstanding host and his knowledge of Milan, the food culture and great places to go to was second to none. He made the tour fun and joined in with us which was awesome. Would definitely recommend this tour to anyone who wants to see the sights and sounds of Milan and experience the food culture. This was a massive highlight for our group. As a tip, definitely wear comfortable shoes as you will be walking a fair bit and a lot of the walking areas are cobblestones. This is definitely not the time for high heels ladies! Also, we started our tour late in the afternoon which is one of the best times (as our guide, Gregory pointed out) as it is before the rush of people heading out to eat later on but also gives you a great dining experience.
Can't find the right experience for you?
Just because it's not here doesn't mean we can't offer it.
Get in touch and the City Unscripted team and hosts will help create the right experience for you.
Any questions?
If you're unsure about anything you can
reach us on any of these channels.