10 Amazing Hidden Gems Near London's Main Attractions
By Yunna Takeuchi

London is an energetic, free-spirited city of intriguing stories and impressive attractions, as well as a dynamic arts and music scene. Walking the city's streets, you can discover what everyone sees, or you can dig a little deeper and discover something more unusual. Secret London is very much unknown to many visitors and there are many unusual places to visit in London, if you want to see an alternative to the tourist sites. From the colourful, crooked corner of Neal's Yard to secret London buildings in the East, eclectic Soho hidden gems to the most incredible food markets, there are so many quirky places in London to explore which are sometimes only a few steps away from the most iconic London sights. Here are my favourite unusual places to explore in London. With an abundance of mystical places in London to uncover, you can discover city life beyond London's main attractions as you peel back the capital's many layers and get a true sense of undiscovered London.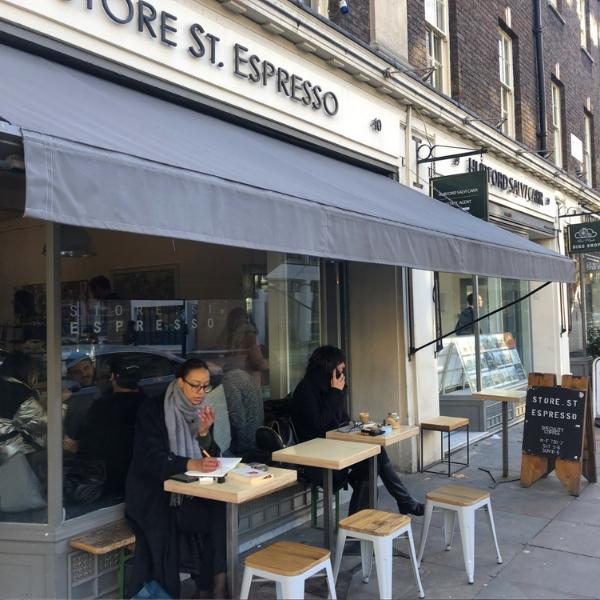 Store Street Near the British Museum
I worked for a while in central London, where it can feel like an on-going battle to find places to eat and shop which aren't soul-less chains or just overpriced and boring. But just down the road from where I worked was the quirky and charming Store Street. Full of offbeat offerings for specialist boutiques and unique curios, Store Street feels like it's own universe away from the chaos of Tottenham Court Road, which it meets at one end. With independent shops ranging from pricey florists to a beautiful instrument shop, as well as more than a few coffee shops, cafes and an always packed pub, Store Street offers a break from chain-store coffee (I won't name names) and over-priced supermarket sushi. Sip a delicious coffee while people watching on the patio of Store Street Espresso and definitely make time to grab lunch at Life Goddess, a rustic-edged Greek deli, or check out what the daily special is at one of the Italian cafes. With a vibrant dynamic, this non touristy London hidden gem is a paradise for browsing some of the best eats and crafts in the middle of zone 1, without feeling like you're actually in zone 1.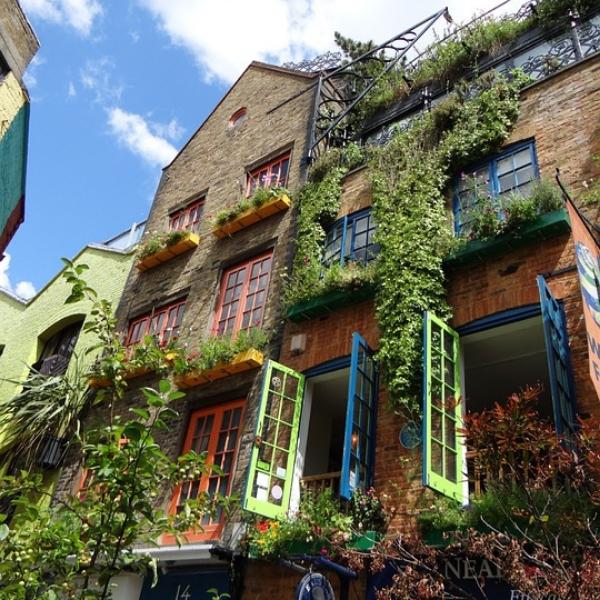 Neal's Yard Near Covent Garden
Hidden away through a hidden side alley close to Covent Garden, you'd never know Neal's Yard was there. A colourful gem of crooked buildings, health food stores, vegan restaurants, offices and curious shops, Neal's Yard is committed to sustainable and ethical commercial practices. Head off Monmouth Street and walk down the narrow passageway to discover a cobbled courtyard with tall, rising brick buildings covered with vibrant colours and murals. On a sunny day, you enjoy the light illuminating the tiny enclosure and sit on an open air patio, relishing in the fact that you've found a tiny patch of secret London, while the rest of the world is running around the most touristy part of town, just over the wall.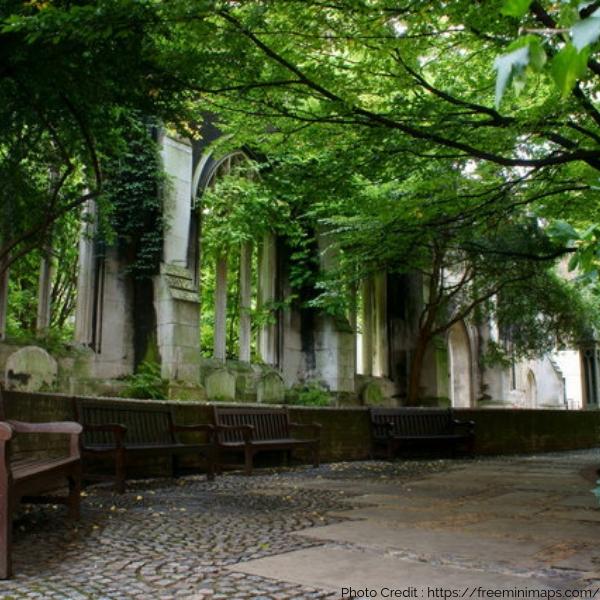 St Dunstan's in the East - near Monument
A rare survivor of both the Great Fire of London and the London Blitz, St Dunstan's is one of the most mystical places in London. Tucked away on an isolated side street, and long since shielded by modern steel structures and urbanisation of the capital, St Dunstan's remains one of the most enchanting, secret parks in London. With overgrown ivy, trees, wallflowers and shrubs creeping through the ruins of arches, St Dunstan's in the East is not to be missed for anyone seeking historic, organic and unrefined London.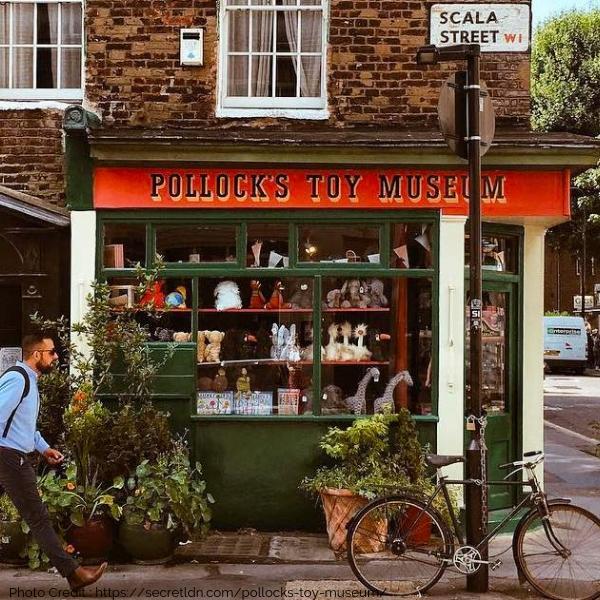 Pollock's Toy Museum – Near Oxford Street
If you're near Oxford Street, check out the charming, hidden gem Pollock's Toy Museum. A fascinating nostalgic find and a journey into the world of a Victorian child, Pollock's Toy Museum is a combination of a historic museum and a mystical shop, showcasing Victorian toy theatre collections and a wealth of folk toys from around the world. For non-touristy London activities with children, the museum makes a great stop for visitors with families seeking something unique in the city. It might seem a little weird, but it's unique and that's exactly why you should take a break from Oxford Circus and check it out.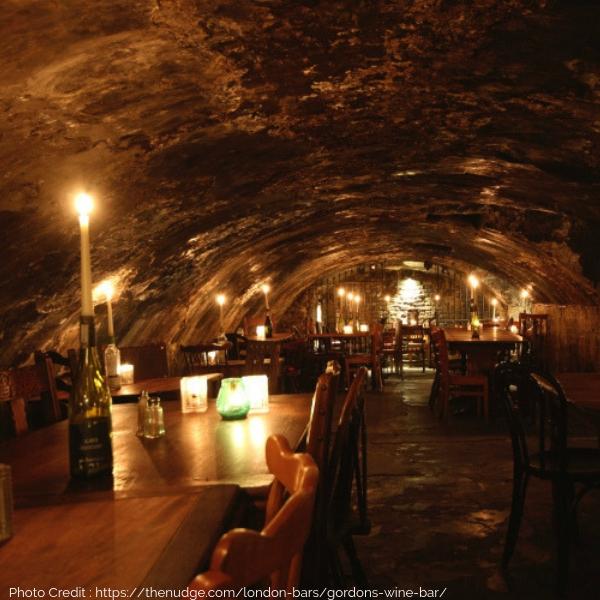 Gordon's Wine Bar - Near Trafalgar Square
A portal into Dickensian London, Gordon's Wine Bar is one of the most unique venues in the city which most people walk pretty much over the top of without ever knowing it exists. I'm not much of a wine drinker, but I love cheese (anyone who doesn't needs to reconsider) and luckily, this is not something Gordon's is lacking in. It's known to be the oldest wine bar in London, and climbing the winding stairs down into the ancient looking, candle-lit cellar is the perfect escape from the madness of Charing Cross station above. If you're in it for the wine, there are possibly hundreds of bottles to choose from, and it's the real deal as they only serve wine and port - no other kind of alcohol. But anyway, who cares about wine when there's so much amazing cheese to eat! The cheese board is a kind of help yourself deal, and you just pay for what you've chosen from crumbling cheddars, creamy bries, fresh baguettes and olives. It can be hard to secure a table, but once you get one, you'll forget where you are in this secret London spot.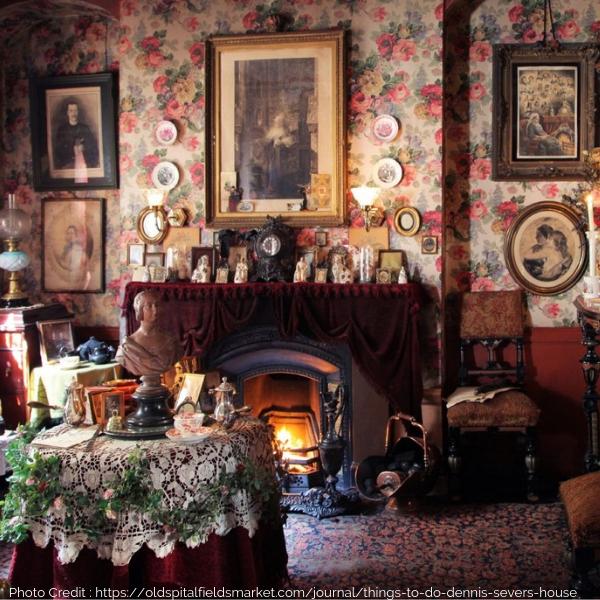 Dennis Sever's House – Near Old Spitalfields Market
If you're adventuring around Old Spitalfields Market, be sure to stop by Dennis Sever's House; a beautiful imaginarium of curiosity and mystery in the heart of Shoreditch. The still-life drama museum was was created by the building's previous owner Dennis Severs, an American artist and eccentric as a historical re-imagination of what life would have been like inside a typical east London home for a family of silk weavers. - exactly what we all imagine, I'm sure. Explore ten rooms of the Dennis Sever's House, each themed as snapshots between 1724 to 1914. Begin at the cellar door, weave your way through the kitchen, dining room, smoking room and grand bedrooms. With candles burning and realistic props scattered throughout, the home gives the sense that the inhabitants left just moments before.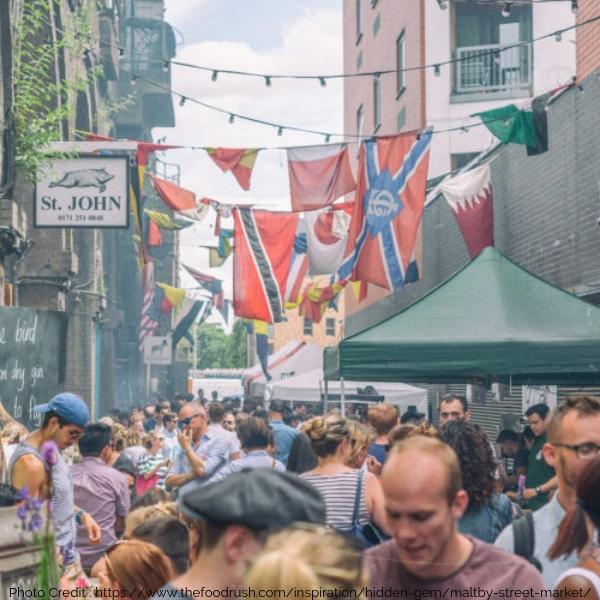 Maltby Street Market – Near Tower Bridge
When it comes to food, I love trying new fusions and combinations - authenticity doesn't always have to mean traditional. I'm from Mexico City, and nothing infuriates me more than people serving or eating Americanised versions of something that's pretending to be a taco. So while I'm all about innovation, I also want to know if what I'm eating is a real reflection of a country or culture's food, or if it's a creative evolution. If you want to try creative versions of various world cuisines, Maltby Street Market is the place to go. A food paradise with a community feel in an up-and-coming corner of south-east London, Maltby Street Market is a London food market with a village-y vibe not to be missed. It's really close to Borough Market, but a lot smaller and although I adore the food at Borough, the atmosphere here is more local and you don't feel like part of a crowd of tourists. There are some really unusual fusions to be found here between the old railway arches, and whilst you might still see something masquerading as a taco, I have to admit I've had some of the best tapas I've ever had in London here.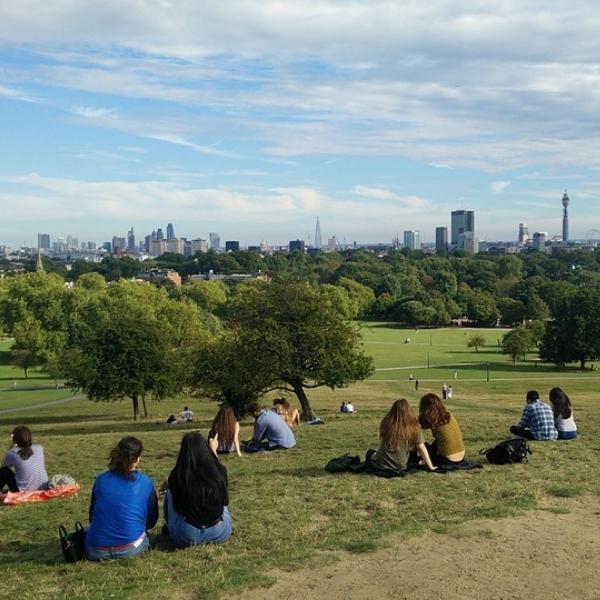 Primrose Hill – Near Camden Town
When exploring the alternative, energetic neighbourhood of Camden, be sure to take a sweet pause on Primrose Hill; one of the best free viewing points in London. Get yourself up the hill, take some food, drinks and a friend with you, and admire the city skyline from the sublime green space. Enjoy stunning panoramic views of the London skyline, where on a sunny day you'll be able to see popular London attractions and landmarks like The London Eye, The Shard, and The BT Tower.. Up until the 19th century, Primrose Hill was a woodland area of trees and wolves, and was once used as a hunting ground by English monarchs - pretty unusual! Throughout its history Primrose Hill has changed very little, and just strolling around its surrounding streets will feel as if you're walking around a London borough during the 20th century. It gets busy at sunset, but it's always just locals so you'll be in good company.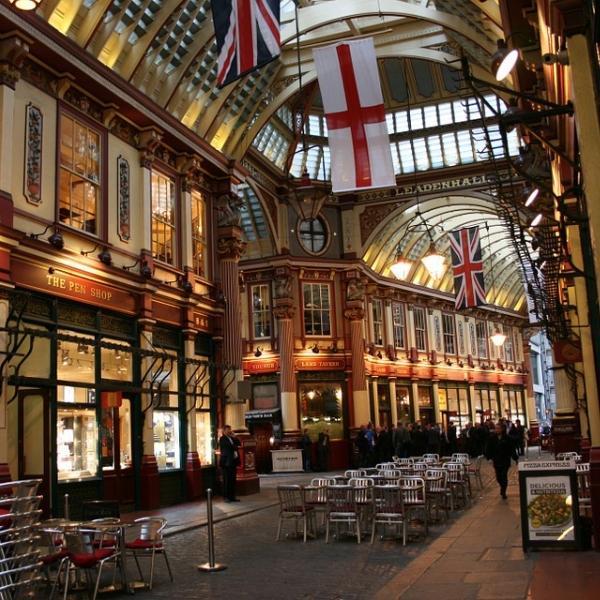 Leadenhall Market Near Sky Garden
A beautiful covered Victorian market, Leadenhall Market is one of London's hidden gems, owned and managed by the City of London Corporation since 1411. You might have heard of it, and Harry Potter fans will know that it was the inspiration for Diagon Alley, and some scenes from the Philosopher's Stone were filmed here, but that's not why I love it. Zig-zag through enchanting stalls selling cheese, meat, fresh foods and flowers or stop by a pub, cafe or restaurant in the market building under an architecturally impressive, elegant Victorian roof. A magical London food market, Leadenhall is not to be missed for anyone seeking the historic spirit of the city's food culture.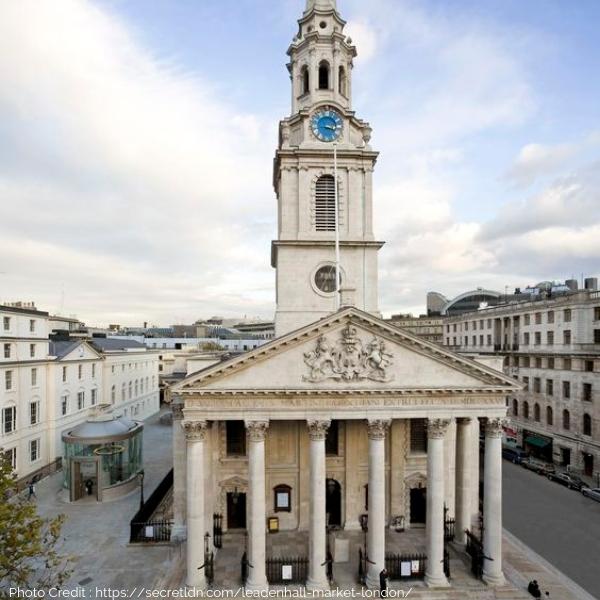 St Bride's Church – Near St Paul's Cathedral
St Bride's Church has a tumultuous and interesting history and has been a pivotal place of worship within the city for many years. Head just off Fleet Street to discover non-touristy London and the spire of St Bride's which is known for inspiring the tiered shape of wedding cakes! Stand on top of 2000 years of London history as you uncover the church's past. From cast iron coffins to ancient bones to a Roman road, the corridors beneath the stunning, ancient St Bride's Church will take you on a journey into the city's past.
Popular London Experiences
Select an experience and let one of our Hosts personalise it to what you want to see & do