It's hard to describe a city as exotic as Tokyo.
From the bustling streets to the tranquil gardens, Tokyo is a city of contrasts, where the ancient and modern seem to blend almost seamlessly together and the millions of people who live, work, and travel here do too.
As an expat who has been fortunate enough to call Tokyo home for the last decade, this is a city that overwhelmed me when I first arrived.
I had never experienced anything quite like it, and for years I worried I would never fully grasp its frenetic energy, its deep history and the always-changing pulse that beats throughout each unique neighborhood.
But now - after years of exploring, learning, asking questions, and doing my research, Tokyo no longer intimidates me.
Excites me? Absolutely. Still leaves me curious? Definitely.
But this city no longer feels foreign to me. Now it feels like home.
No longer a visitor...now a traveler
No longer a visitor...now a traveler
Early on in my first months of living in Tokyo, I learned the secret that would change me from feeling like a foreign visitor into a global traveler. I learned what it would take for the city to not see me as an outsider but instead as someone who belonged there.
The key for me? Taking myself on a walking tour!
For anyone who has researched, but hasn't yet been to Tokyo, it might be hard to imagine that a city of this size and intensity is actually walkable.
With a population of over 13 million people (and visits almost equaling that number every year) the idea of traversing this city on foot may seem unrealistic.
Not only that but Tokyo also has a world-class public transportation system that makes getting around fast and efficient
But - as someone who primarily likes seeing a city by just wandering aimlessly in an area and getting a feel for the local culture, my own personal walking tours of Tokyo have delighted me more than just about any place I have ever visited or lived.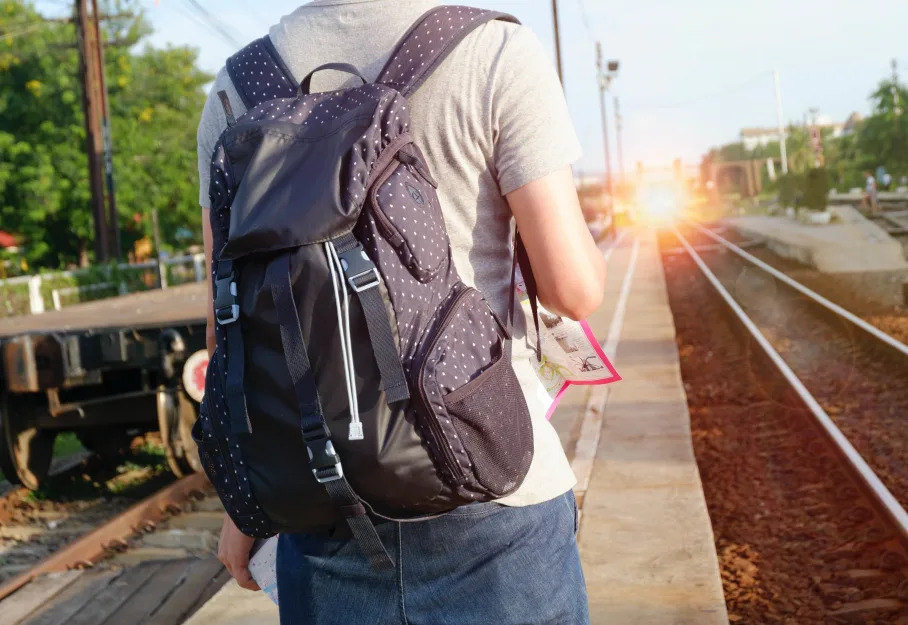 Once you spend some time enjoying it on foot, you'll quickly see that this capital city is incredibly walkable.
And even better? Every nook, every neighborhood, every side street, and site of the city has hidden gems and charm all its own. Each is like its own private tour and you never know exactly what you'll find around the next corner.
If you are considering spending some time walking in Tokyo, but don't want to do it without some sort of tour guide, I can't wait to share one of my multiple walking Tokyo tours with you.
Tokyo walking tours can be an unforgettable experience. Let me introduce you to one of my favorites.
Itinerary #1: Iconic Landmarks, Culinary Delights, and Vibrant Tokyo Neighborhoods
This first full day tour is always one of my favorites. It allows my guests to do a little bit of a lot of things and end the day with a good sense of the overall rhythm of this spellbinding city.
From some iconic landmarks to some favorite foods, I will try and give you a true sampling of some of the reasons I find Tokyo to be the most unique and unforgettable place on earth.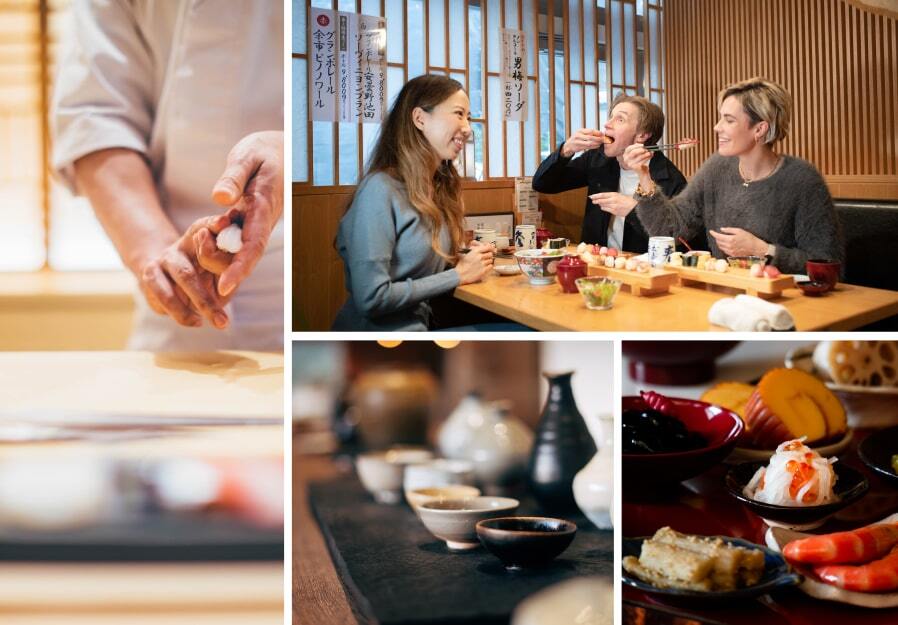 Stop #1: Hama Rikyu Gardens
We will begin our customized tour together at the Hama Rikyu Gardens, a historic garden that happens to be located right in the heart of the city.
Located alongside Tokyo Bay, Hama Rikyu features the only garden in the city to have seawater ponds that change water levels with the tides.
There is also a lovely teahouse that sits on an island and looks like it could be floating on the water.
In the teahouse, we can enjoy our first Japanese tea of the day and enjoy the stark contrast of the traditional gardens to the skyscrapers of the adjacent Shiodome district.
Our walking tour will take us through the garden's carefully curated paths, each one designed to showcase the various features of the garden. And though this garden is gorgeous at any time of the year, my favorite is in February and March when the plum blossoms begin to appear.
The highlight of the tour for me is always Hama Rikyu's famous 300-year-old pine tree. The tree is an awe-inspiring sight and a testament to all this garden has seen over the course of Tokyo's changing past.
Walking beneath its towering branches always feels a bit like I am stepping back in time to when the garden was first created and makes me wonder how much more it will witness in its lifetime.
Stop #2: A walking tour to Tsukiji Outer Market
A visit to the Tsukiji Outer Market will be like none other you have ever encountered, and is a great way to get a real feel for the energy and efficiency of this amazing city.
Known by some as Japan's "Food Town," Tsukiji Outer Market is a bustling and lively area where locals and tourists alike indulge in a wide variety of local foods, fresh fruits, vegetables, and all sorts of other delicacies.
Originally, this market was more centered on catering to those in the wholesale business as it was adjacent to the Tsukiji Wholesale Market (also known as the Tsukiji Fish Market.)
But even though the Tsukiji Fish Market closed in 2018, the outer market has remained open and has everything from wholesale and retail shops to restaurants, and even gadgets and food-related goods like knives and cooking accessories.
Though the Tsukiji Fish Market has closed, the infamous taste of the Tsukiji Fish Market food has remained. One of my favorite places to have brunch is Uogashi-Sennryo sushi restaurant where the sashimi rice bowl will leave you wondering why you haven't visited Tokyo before now!
After breakfast we can continue our walking tour through the market which is divided into narrow streets and alleys, each lined with vendors selling their specialties. The market is like a treasure hunt, each alley and vendor revealing something different than the last.
Stop #3: Ginza
Honestly, I could probably base an entire walking tour around Ginza alone.
While most walking tours in Tokyo will include Ginza, seeing it from the eyes of a person who has lived here for as long as I have can be a very unique experience.
Ginza is one of the most luxurious shopping districts in the world and you will soon see why. From Gucci and Dior to Louis Vuitton and Chanel, many of the world's luxury retailers have flagship stores in this area of Tokyo that proudly boasts as many upscale stores as Fifth Avenue in New York and the Champs-Élysées in Paris.
Gorgeous Ginza is also known for its art scene and its food options as well. One of the yummiest places to stop is Ginza Akebono, a place known for its traditional Japanese sweet treats.
Whether you decide to do any shopping in Ginza or just join the crowds and stroll, it's a side of Tokyo you certainly won't want to miss.
Stop #4: Imperial Palace East Gardens
At this point, our walking tour will take a slight detour as we take the Tokyo metro Marunouchi Line from Ginza Station to our next stop.
Though you may think that the best Tokyo walking tours wouldn't involve a ride on the city's subway, you will be surprised at what an educational experience public transportation in this city actually is.
Tokyo's metro system is one of the most efficient and extensive public transportation networks in the world and it truly embodies the essence of the best culture it has to offer. The metro is the lifeline of our city, and the trains are known for their punctuality, speed, and cleanliness which is hard to fully grasp until you see it for yourself!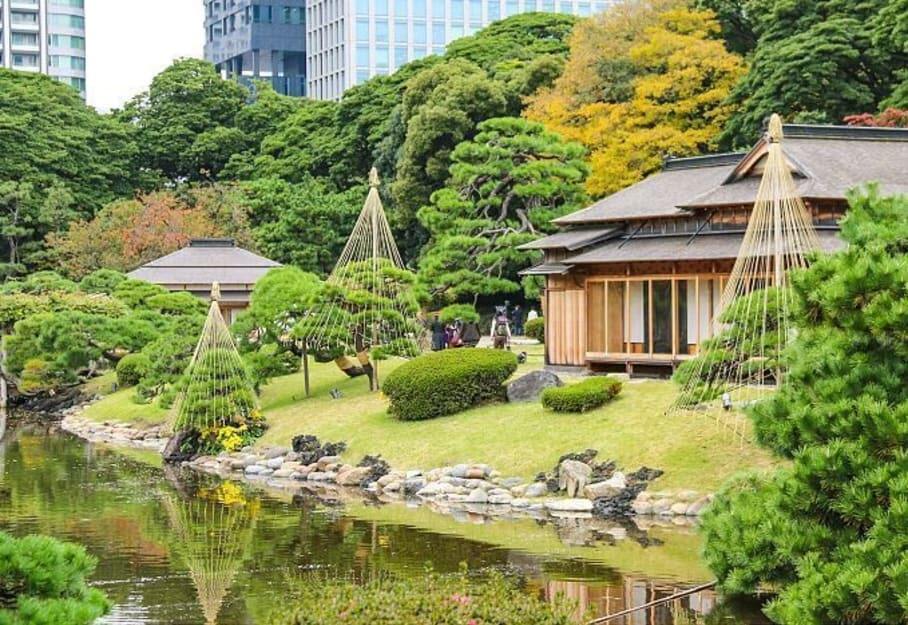 We will exit the metro at Tokyo Station and resume our walking tour to the Imperial Palace East Gardens. These gardens put us in the heart of Tokyo and are delicately situated on the site of the former Edo Castle, which was the residence of the Tokugawa shoguns from 1603 to 1868.
During the Edo period, the Edo Castle was the largest fortress in the world, though today there is little left other than the moat and some stone walls.
And though most of the palace site is off limits, (since this is the emperor's home) we can either join one of the free walking tour guides that will allow us to see a small portion of the inner compound, or just stick to enjoying the green space surrounding it, imagining the samurai warriors and shoguns that were once here.
The gardens are not only breathtaking, but this is a must-visit destination if you are interested in Japanese culture and Japanese history.
Stop #5: Yurakucho Gado-shita
The best walking tours will always involve culinary culture as well as art or historical culture, and my walking tours are no exception to that.
From the stateliness of the Imperial Palace and the Imperial Palace East Gardens, we will walk to Yurakucho Gado-shita, a unique and hidden gem in the true heart of Tokyo.
Yurakucho Gado-shita is - quite literally! - off the beaten trail.
Located under the brick viaducts of the Yamanote Metro Line tracks, Yurakucho Gado-shita is an atmospheric space filled with narrow alleyways - each lined with cozy bars and restaurants, and with its own distinct character and charm.
The area has a strong sense of nostalgia, harking back to a bygone era of post-war Tokyo, yet it still manages to feel funky, fresh, and modern.
The mix of traditional and contemporary architecture, combined with the lively atmosphere and delicious food makes Yurakucho Gado-shita an unforgettable experience for anyone looking to explore Tokyo's slightly more raucous and hidden side.
Here, under the tracks, we will find countless options for lunch. Sometimes known as 'salaryman heaven', this is home to countless restaurants, standing-only bars, and Korean barbecue houses.
Prices, as you can probably imagine, are cheap here, but the quality is rarely sacrificed. There is a jolly - sometimes rambunctious - energy here that makes it a place that can't be fully experienced until you witness it with your own eyes.
And the noise and vibration from the trains passing by above? It only adds to the charm.
Stop #6: Meiji Jingu
After lunch, we will hop back on the metro and take the Yamanote Line from Yurakucho Station to Harajuku Station to get to our next stop on our walking tour: Meiji Jingu shrine.
Meiji Shrine and the adjacent Yoyogi Park make up a large forested area within the densely built-up city. From the moment we walk in, the massive forest surrounding the shrine will swallow the sounds of the bustling city, leaving only the soft rustling of leaves and the occasional chirping of a bird to greet us. The towering trees create a natural canopy above our heads, casting a dappled light as we make our way down the quiet path.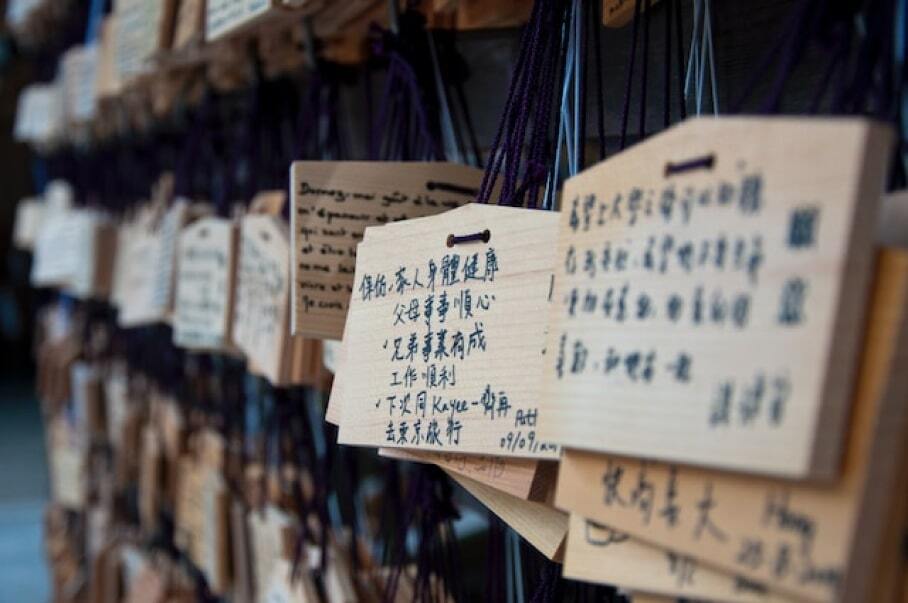 Meiji Jingu is a shrine dedicated to the spirits of Emperor Meiji and Empress Shoken. Emperor Meiji is known for his role in modernizing Japan in the late 19th and early 20th centuries. The shrine was built in 1920 as a way to honor Emperor Meiji, who had died in 1912, and Empress Shoken, who had passed away in 1914.
It's hard not to be struck by the sheer size and grandeur of the Meiji Shrine.
The enormous pillars and sweeping roof lines alone are a sight to behold, while inside the shrine you can't help but be mesmerized by the soft glow of the lanterns that cast a warm glow over the gleaming gold leaf and delicate paintings that decorate the walls and ceilings. This shrine is made to give every visitor a sense of calm and wonder while visiting it.
Hopefully, you will leave with some of it as well...
Stop #7: Shibuya Crossing
Tokyo is truly a city of paradox and never is this more obvious than in the difference between our last stop and the next one on our walking tour.
As we approach Shibuya Crossing you will quickly see why it is one of the most intense and iconic sights in Tokyo...and even the world.
Located right in the heart of Shibuya - a bustling and trendy neighborhood that's home to numerous shops, restaurants, and entertainment venues - Shibuya Crossing is the opposite of calm...but is definitely full of wonder!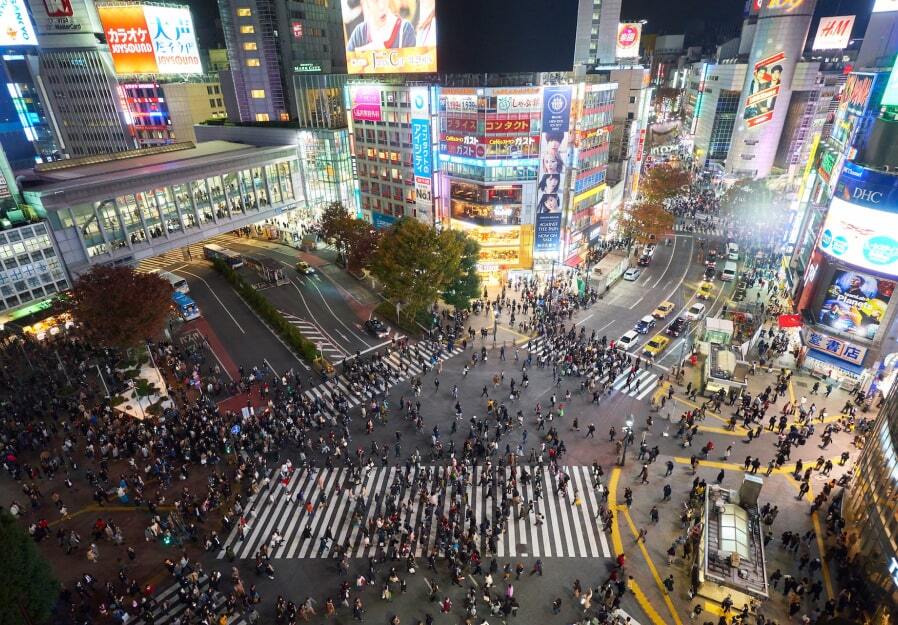 The crossing itself is a massive intersection where tens of thousands of people cross in every direction, every day, all at once.
It's truly a surreal experience to watch. Or, even better, to be in the middle of and see the sea of people surrounding you!
The sheer size of Shibuya Crossing is enough to make it an attraction in its own right, but it's also a symbol of Tokyo's energy and fast-paced lifestyle while also being a testament to the organization and efficiency that Tokyo is known for.
Stop #8: Dinner at Takamaru Denki Izakaya
An easy 12-minute walk away from Shibuya crossing, we will enjoy dinner at Takamaru Denki Izakaya, a lovely neon-lit pub that is nicely separated from the district's central hub.
This eccentric dining space has a night market-inspired theme that is a festive way to end our day.
The portions at this popular spot are deliberately small so we will be able to try a little bit of everything, making sure your culinary culture is fully satisfied before our last stop of the day.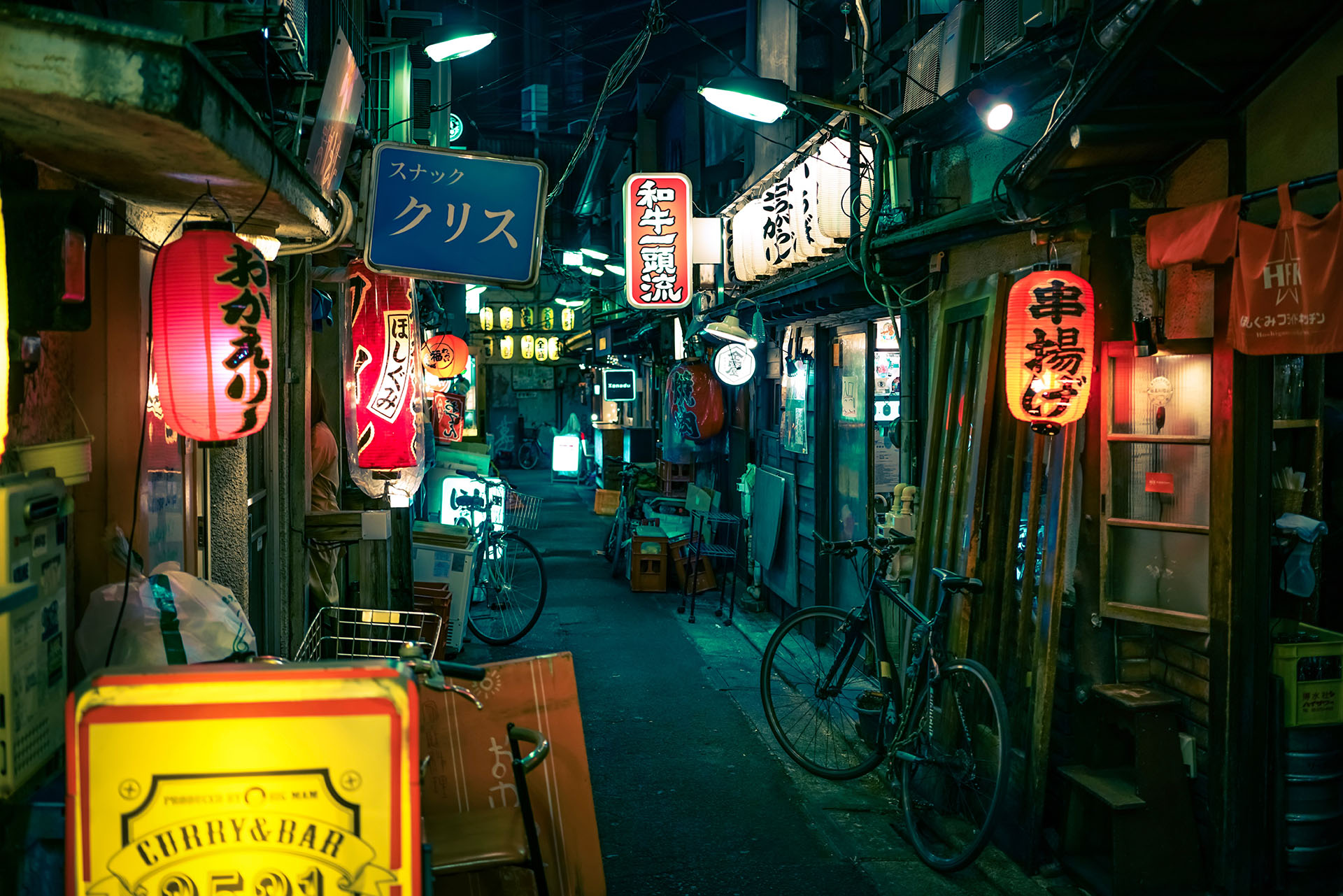 Stop #9: A night of karaoke!
In my opinion, the best walking tours in Tokyo will never be complete without enjoying a quintessential Japanese pastime...Karaoke!
Karaoke is an entertainment staple in Tokyo nightlife and across Japan. Karaoke establishments can be found in every corner of Tokyo, from the glitzy karaoke bars in Shibuya to the more intimate venues in Shinjuku.
One reason for the popularity of karaoke in Tokyo is the emphasis on group harmony and the bonding experience it provides. In Japan, socializing is often done in group settings, and karaoke is the perfect way to connect with friends and colleagues.
Karaoke provides a true sense of community, with everyone coming together to sing, enjoy some Japanese beer or sake, make some new friends, and just have some fun!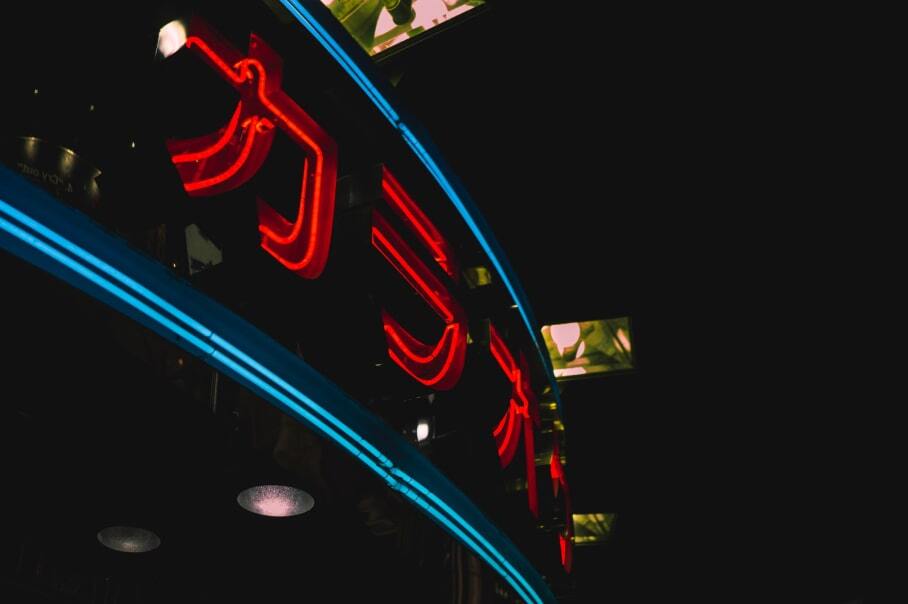 Additionally, karaoke is an excellent stress reliever for many people. Singing has been shown to have positive effects on mental health, including reducing stress and anxiety. Karaoke is a great way to let loose, forget about daily stresses, and enjoy the moment at a different pace.
Tokyo
City
---
Private tours lovingly tailored to you by our local insiders
Our tours have received an outstanding 5-star rating from over 700 satisfied customers!
See Tours!
Ready to see more of Tokyo? Consider other walking tours as well!
If this full day tour of Tokyo has you wanting for more, it is no surprise.
Tokyo is an expansive city with so much more to offer than what I can show you in one day.
From sites like the serene Shinjuku Gyoen National Garden to the funkiness of Shimokitazawa, there is still so much for you to experience and explore in this city.
Tokyo
City
---
Private tours lovingly tailored to you by our local insiders
Our tours have received an outstanding 5-star rating from over 700 satisfied customers!
See Tours!
Hello, curious traveler!
Embark on a unique experience with Hello, curious traveler!
Embark on a unique experience with City Unscripted Tokyo.
Our personalized, private tours, led by local hosts, make you feel like you're exploring the city with a knowledgeable friend. We'll take you to well-known sights and reveal Tokyo's hidden gems, unveiling stories typically missed by traditional tours. So unscript your journey, and see Tokyo through the eyes of our local hosts!
Top private experiences in Tokyo
We'll pair you with the perfect host
There is no better way to see a city than with a friend who lives there. This is why we carefully match guests with their perfect host based on interested, personality and type of experience so they can discover a city beyond the tourist trail.
Sign up to our emails
Make your inbox happy with our travel tips and inspiration as well as exclusive offers and first access to new services.
Explore our cities in Japan