48 Hours In Tokyo
Japan's capital city of Tokyo is a must-try for any visitor to the Land of the Rising Sun. It is clean, packed with unique experiences, and extremely safe considering its size. Tokyo is the favourite of many and it attracts millions of tourists a year with its unique sightseeing spots and charming mix of the traditional and modern. Most people have more limited time in Japan than they'd like, so how many days are enough to set aside for this monster of a city? It is recommended that you keep at least two days free to explore a lot of Tokyo. Here is a suggested forty-eight hour itinerary to experience some of Japan's history, food, shopping, and traditions for those visiting the city for the first time.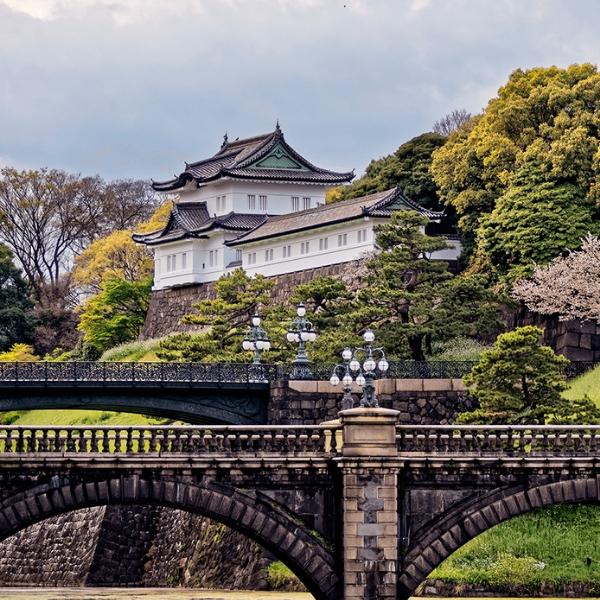 DAY 1
The Imperial Palace
The Imperial Palace is at the centre of Tokyo, a symbol of the imperial family. On the first morning, head to Omotesando Station and leave from exit D2. You will emerge near the imperial palace wall and after a five-minute walk, you can reach the East Palace Gardens. These gardens are free to enter and are open from 9:00am until 5:00pm. Here you can see old guardhouses and palace architecture, and if you're visiting in spring, various blooming local fauna. The Imperial Palace Gardens are a taste of nirvana and it is a charming sight to see a wide natural space with skyscrapers on the horizon. You only need to spend an hour or so here to explore, so when you've gotten your fill of nature and traditional architecture, take the Tozai line to Onarimon Station.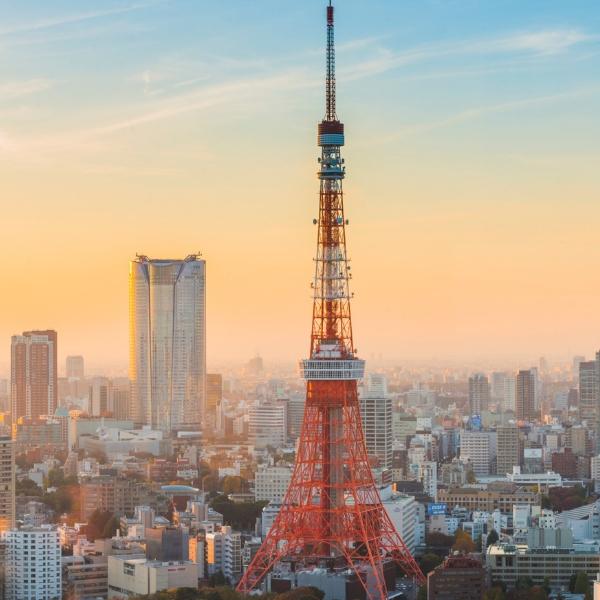 Tokyo Tower
Tokyo Tower is just gorgeous; it has been arguably trumped by the much taller Tokyo Skytree in recent years, but many would agree that the original tower remains the more interesting and fun of the two. When you exit Onarimon Station (following the signs for Tokyo Tower), turn right to find Zojo-ji Temple, a gorgeous temple with a view of the tower in the background. The tower itself is 900 yen to enter to the middle observatory, and more if you want to go right to the top or check out any special exhibitions. From the top, you can see a panoramic view of Tokyo including various famous buildings, rainbow bridge, a bird's eye view of temples, and even Mt. Fuji on a clear day. There is a gift shop for Tokyo-themed souvenirs on the third floor, where the elevator drops you off on your way down.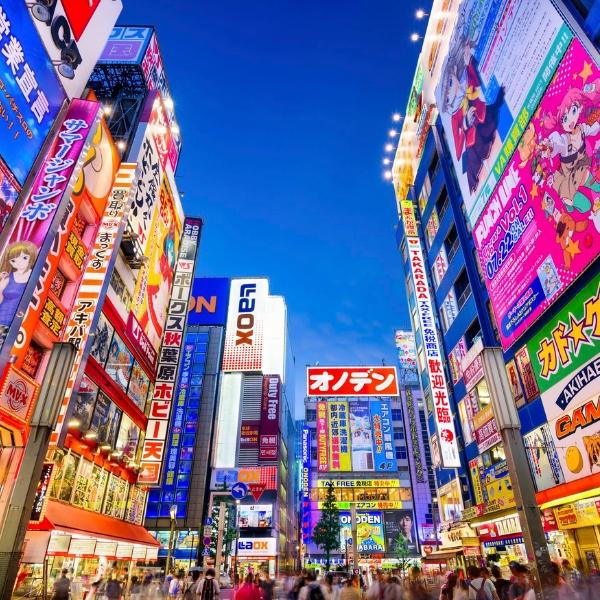 Ueno & Akihabara
Ueno is a beautiful historic area of Tokyo boasting an impressive park, museums, and temples, as well as a large shopping street and city area of restaurants and bars. Get the Hibiya line from Kamiyacho Station (about a ten-minute walk from Tokyo Tower). If the weather is good, you can spend the afternoon exploring Ueno Park, which is particularly beautiful during cherry blossom season, and the surrounding temples and shrines. You can also head for Ameyoko Market, a group of narrow streets selling everything from gadgets to seafood. If the weather is cold or rainy, or you're interested in anime and manga comic products, then you've got to spend the afternoon in Akihabara, Tokyo's famous "Electric Town." It is a mecca for all things anime and video game related, including figurines, soft toys, retro games, cosplay items, and collectibles. Akihabara is also home to an abundance of maid cafes, a unique experience of cuteness o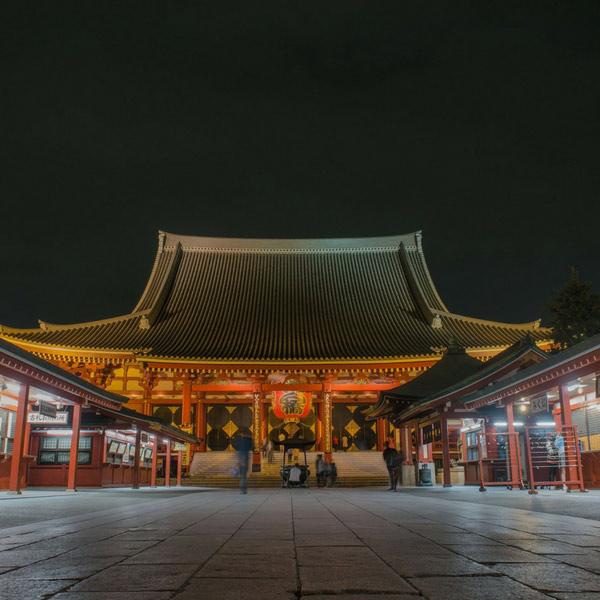 Senso-ji Temple
If you've still got energy, you should spend the evening checking out one of the most famous and the oldest Buddhist temple in Tokyo, Senso-ji. Hop on the Ginza line from Ueno or the Tsukuba Express from Akihabara. Senso-ji Temple is one of the iconic views of Tokyo. With the Skytree in the background and an enormous red gate, Senso-ji Temple is a symbol of Japanese history and architecture. Follow the road from the Kaminari-mon gate along Nakamise-dori street, where you'll see snack vendors and souvenir shops. The area has everything you'd want in temple grounds: incense burning, a place to get your fortune told, street food at certain times of the day, and a temple area where you can pray for good fortune. Photo opportunities await those here who are in love with temples and the like.
Snack on dango (rice cakes), sausages on sticks, yakisoba (fried noodles), or fried chicken as you explore the area. Asakusa also has a variety of corner izakaya bars where you can try Japanese sake or pub food such as yakitori (skewered chicken and other meat), oden (a hearty winter soup), and eda-mame (salted soy beans). The walk back down Nakamise can be spent stocking up on souvenirs, from kimonos to keychains.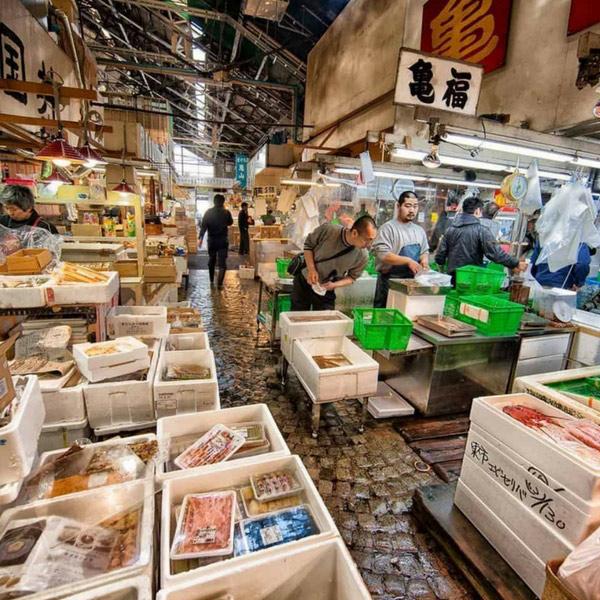 DAY 2
Tsukiji Fish Market
Don't drink too much the night before if you'd like to visit the world-famous Tsukiji Fish Market! Arrive early if you can (some people go as early as three o'clock in the morning!) to see live auctions and new catches of the day, including enormous tuna and other fresh catches. There are several restaurants where you can enjoy some of the freshest fish in the country, and it's the perfect place to try top-quality sushi.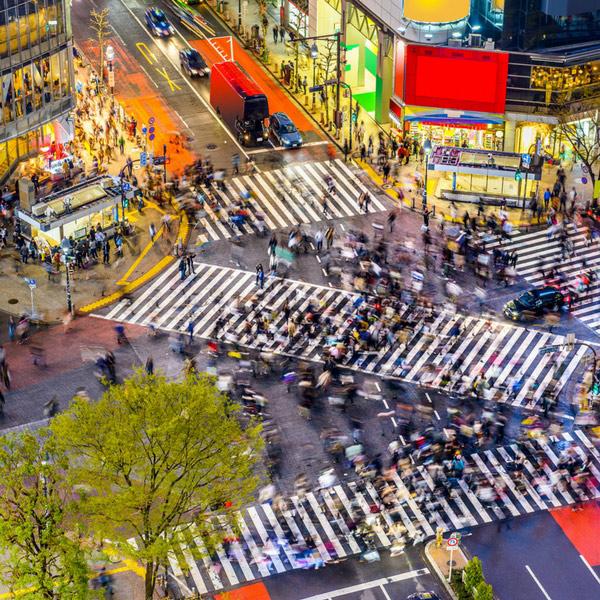 Shibuya
For those who love shopping, head to Shibuya Station. Leave from Exit 8 to catch a view of the iconic statue of Hachiko, a famous local shiba dog that waited at Shibuya Station faithfully for its owner for years, even after its owner passed away. Next, you'll see the Scramble, the busiest road crossing in Japan, that sees thousands of pedestrians per minute! You're surrounded by metropolitan madness here with screens and advertisements and just so many people.
Shibuya's great for clothes shopping and for if you're looking for electronics. Head to Bic Camera for video games and computer parts, or to Taito Station arcade to try and win a cuddly toy.
Harajuku
Harajuku is another famous place in Tokyo that you have to see. Hop on the JR Yamanote line for just one stop to hit Harajuku, the land of crazy fashion and cuteness overload. Takeshita-dori Street boasts shops selling unique and affordable clothing, cosplay items and wigs, tasty crepes and more. You can spend hours browsing the shops here, finding deals and unusual styles that can jazz up your look. Be prepared for crowds if you are visiting on a weekend. For those looking for a quieter time in Harajuku, you can head for Meiji-Jingu Shrine, a pleasant walk in a wide-open wooded area that leads to the largest wooden torii gate in Japan and a large, pretty shrine. Meiji-Jingu Park is also here, hosting various festivals and events throughout the year. It is also a hotspot for cherry blossom viewing in spring.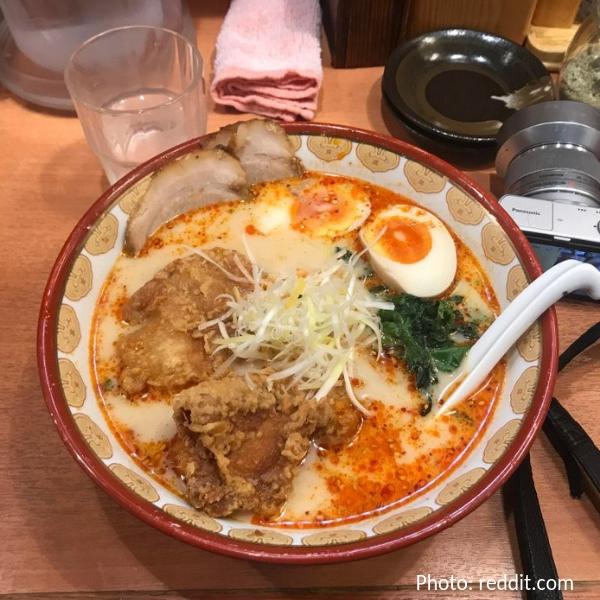 Ramen at Daikanayama
Finally, end your day with a delicious bowl of ramen! The Fukutoshin line leaves from Harajuku and passes through Shibuya Station, where it becomes the Toyoko line. Get off at Daikanyama, just one stop from Shibuya, and head for Ore-Ryu Ramen. Take a moment to admire this upmarket area, with its high-brand shops and pristine streets. You can often see celebrities and models here, and dog lovers are likely to spot cute dogs walked by their owners. Follow the road along towards Shibuya and turn to Sarugaku-cho, which is home to Ore-ryu Ramen, some of the most delicious ramen you'll find in the area. The succulent fried chicken is an excellent side dish and the gyoza dumplings are plump and juicy. On the other side, there is a standing bar selling takoyaki (small, ball-shaped snacks with octopus filling) and various kinds of sake.
Although there are many more places to see such as the anime mecca of Ikebukuro or the charming bars of Roppongi, with this itinerary, you can see some of Tokyo's best in just two days. This wonderful city is so full of great restaurants, shops, and sightseeing spots that you can live here for a year and not see everything. Make some unforgettable memories in this fantastic city that may soon be your favourite in Japan!
Popular Tokyo Experiences
Select an experience and let one of our Hosts personalise it to what you want to see & do