10 Must Eat Foods In Paris - Recommended by a local
By Alexandra, curious explorer, art enthusiast and Parisian local of five years. Edited by Emma White

Planning a city break to Paris? Between long, lazy strolls along the Seine and stops at the top sightseeing spots, make time to indulge in some of the city's most famous and most delicious food. From exquisite 3-star Michelin restaurants to timeless Parisian bistros, classic French sweet treats and of course, the humble baguette, there are many memories to be made whilst exploring Paris's vibrant food scene. I must admit, the endless food possibilities in Paris was a contributing factor to the decision to move here 5 years ago. I'm still discovering the best foods in Paris and the list of restaurants I'd like to try grows every day! So, for all you food-lovers out there visiting Paris in the near future, check out this guide to the must eat foods in Paris and the best Paris restaurants to try them at. To really get a taste of food in Paris you're going to need to eat like a local of many years in just a few days so take my advice and temporarily forget all diets and healthy living routines and just get stuck in. Bon Appetit!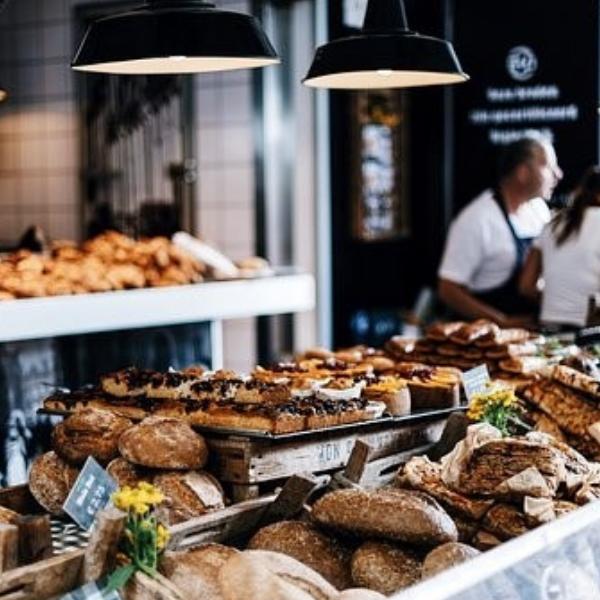 French pastries
If you were to visit Paris for only one hour and I had to advise you on the top places to eat in Paris for an authentic French experience, I would tell you to head for nearest Parisian boulangerie (bakery). There's something truly special and heart-warming about French bakeries, and the locals' love for fresh bread and golden brown pastries is unmatched elsewhere in world. For me, the ultimate Parisian breakfast is a strong coffee and a buttery, flaky croissant - there's just nothing better. Or for those with a sweet tooth, substitute the croissant for its chocolate-filled brother, the pain au chocolat. Go to Boulangerie Rèves De Paris République (180 Rue Temple) – the bakery's ornate interior reflects the city's grandeur and elegance and the pastries are simply perfect. Join locals on the terrace outside (yes, even in winter!) for your morning coffee and pastry whilst you prepare for the day ahead.
Fresh baguette
Let's stick with bakery goods for the moment and talk about bread! Let me be clear, you must not visit Paris and leave without sampling a fresh baguette - straight out the oven and still warm - mmmm. An authentic French baguette is what dreams are made of, I promise you. One bite of that crisp crust and warm, pillowy centre (the addition of cheese is recommended) will have you booking your next trip to Paris before you've even left! So be sure to add this to your list of must eat foods in Paris. In any case, you won't be able to miss trying one as the sweet and cosy scent of baked baguettes will have you walking into the nearest boulangerie by your nose and ordering a fresh baguette before your brain has time to react!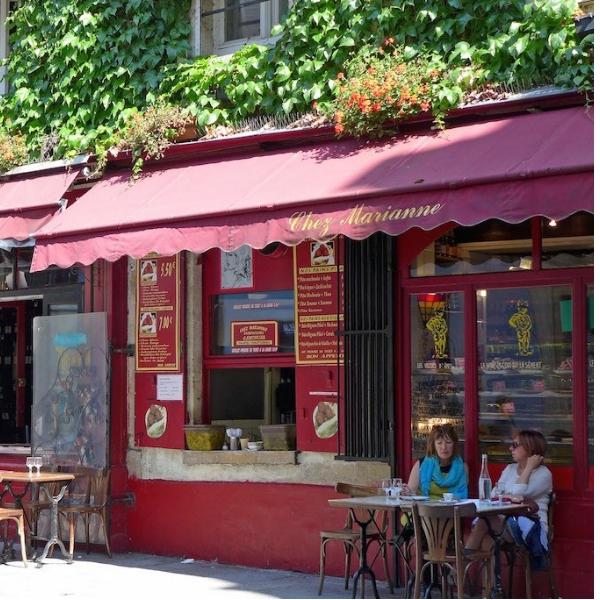 Falafel
You might be surprised to know that, thanks to Le Marais' Jewish community, Paris is home to some of the best falafel on earth! While it is perhaps not the most traditional food in Paris, I love falafel and as a vegetarian living in a city where almost every meal comes with meat or meat products, I'm very grateful for it! For some of the best food in Paris and the ultimate falafel fix check out Chez Marianne (2 rue des Hospitaliéres St. Gervais), in the old Jewish quarter of the Marais neighbourhood. Open from 12 until 12 every day, this quaint middle-eastern restaurant serves up delicious falafel sandwiches stuffed with warm chickpea balls, fresh salad and smooth, garlicky hummus. Find a table inside or eat on-the-go. Get stuck in and don't be afraid to get messy! I guarantee this will be one of your best food experiences in Paris.
Macarons
These colourful and delicate sweets, composed of two crisp meringue shells held together by a soft, piped centre originated in Paris and therefore must feature in your Paris food guide as one of the top 10 French foods to try. Pierre Hermé (18 Rue Sainte-Croix de la Bretonnerie) and Ladurée (75 Av. Des Champs- Élysées) make the best macarons in Paris. While Ladurée is often credited as the inventor of the macaron, Pierre Hermé tends to be more creative with its macaron flavours. I warn you now it is almost impossible to choose which flavours to try so my advice is to just get a box of assorted flavours (from each shop!) and sample them throughout your stay – then if you find your favourite flavour before leaving you can always go back for more!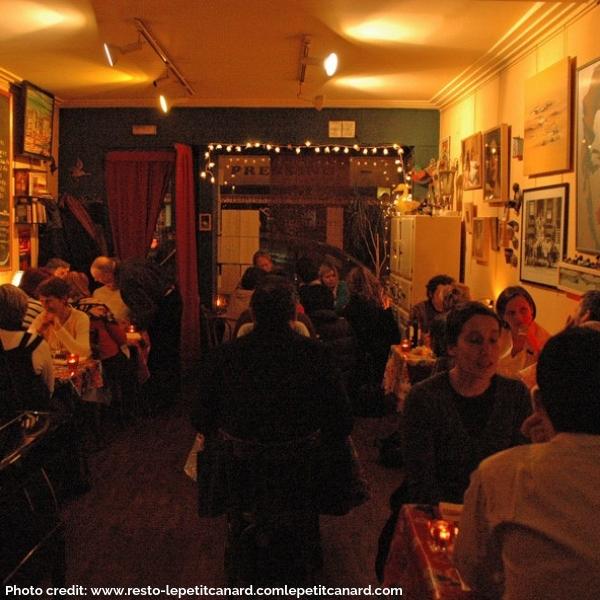 Duck confit
Although I'm a vegetarian, I've been told by my friends that one of their favourite must-eat foods in Paris is duck confit. For your chance to sample a delicious duck confit, I'd recommend eating out at a traditional French bistro or restaurant with a typical French-style menu for an authentic dining experience. Le Petit Canard (19 rue Henry Monnier) is one of the best Paris restaurants serving up tasty, top quality duck dishes of all sorts. I am told that their duck confit, served with heavenly garlicky potatoes and buttery greens, is particularly special and worth booking a table for (this restaurant is tiny, so booking is essential).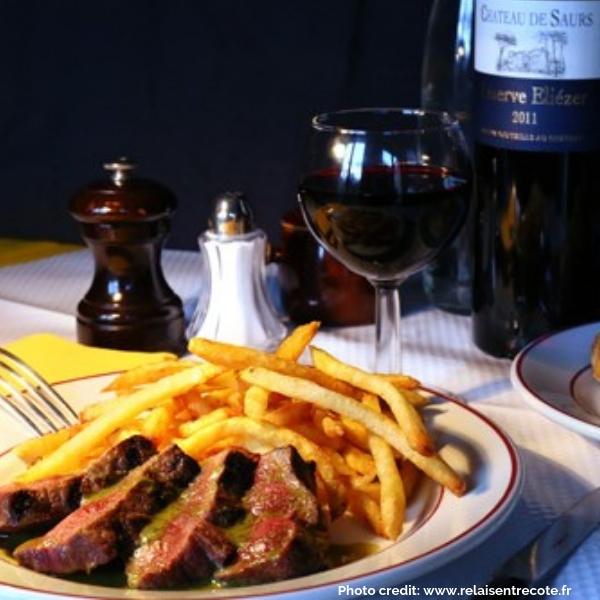 Steak frites
While I'm a vegetarian I'm still well-aware of the fact that steak frites is an absolute must-eat food in Paris for those who do love steak. For a traditional experience, try Relais de l'Entrecôte (15 Rue Marbeuf) just off the Champs- Élysées. The only thing on this popular restaurant's menu is entrecote steak, the most tender, succulent meat served with crispy frites and an incredible sauce, so good it has Parisians going crazy trying to figure out the secret ingredients! All diners start with a walnut salad and can choose a dessert from the à la carte menu if desired. Surrounded by waiters their authentic black and white uniforms and with the old-fashioned dessert table in clear view, you'll start to feel like a true Parisian local!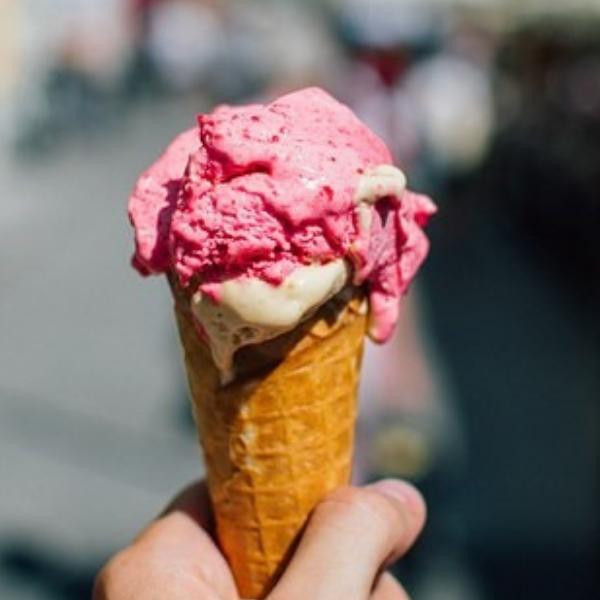 Ice cream from Berthillon
If you're visiting Paris in the summer and you fancy something sweet to enjoy while you explore the city's labyrinth of quaint streets and elegant boulevards, head to Berthillon (29-31 Rue Saint-Louis en l'Île) for a taste of Paris's best ice cream. Established in 1954, this ice cream shop located on the Île Saint-Louis, is arguably the most famous and most loved ice cream provider in the whole city. They are passionate about creating amazing, high quality ice creams and sorbets in all different flavour combinations for everyone to enjoy. My favourite is chocolate rum, what will yours be?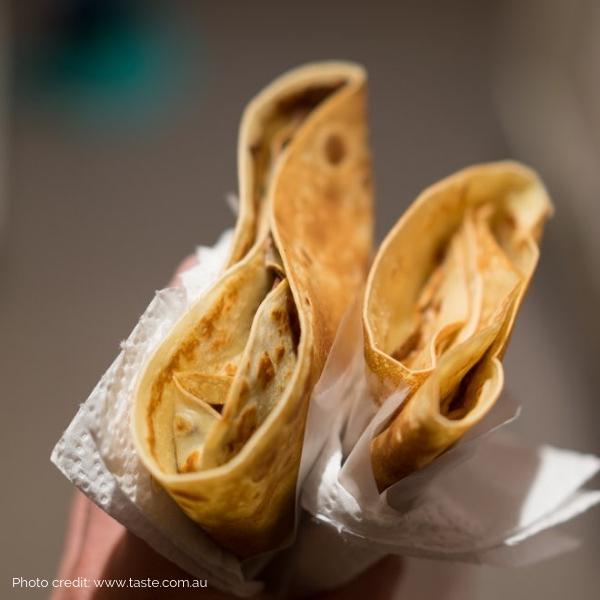 Crepes
Another of the classic must eat foods in Paris are crêpes, both the sweet and savoury varieties. One of the best places to eat in Paris for perfect crêpes every time is La Droguerie du Marais (56 Rue des Rosiers) where you can make your order at the walk-up window and then watch the skilled crêpe artists at work while you wait! La Droguerie du Marias is instantly recognisable as the only Paris street food eatery (other than L'As du Falafel) on Rue des Rosiers with a queue that goes right around the corner. Once your crêpe is ready, tuck in and enjoy it whilst walking around the old streets of Le Marais.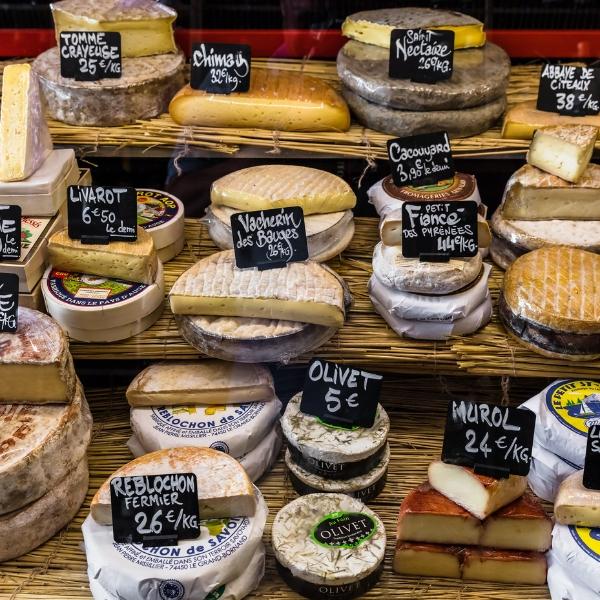 Cheese
For those who were reading this and wondering if I was really going to write a Paris food guide of top 10 French foods and not include cheese, don't worry! That would brie ridiculous! Rest assured you can comté on me to recommend the best food in Paris without leaving out the most important! And I'd argue that cheese indeed holds the top spot on the list of top 10 French foods. If you agree, and if you're anything like me, then you're likely to spend a large part of your trip to Paris eating cheese. Rich camembert, nutty comté, creamy brie, bold blue, tangy goat – the list of amazing cheeses available in Paris is endless! Try them all at any cheese shop, or after your meal at most traditional restaurants. Check out my favourite hidden gem, La Cave des Abbesses in Montmartre, their cheese board is my favourite!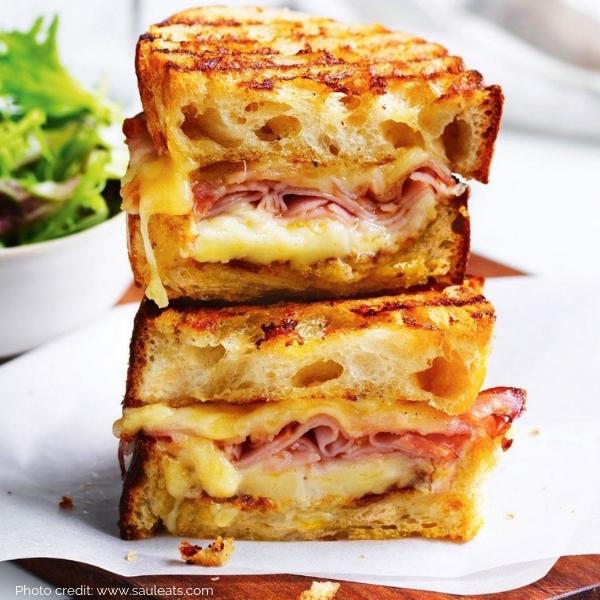 Croque Monsieur/Croque Madame
Most cafés in Paris offer non-stop service, and a staple that you're almost always guaranteed to find one their menus is the humble croque-monsieur, a crispy grilled sandwich loaded with ham and oozing with tons of melted cheese as well as a touch of béchamel sauce for that extra creaminess. Try yours at Le Madeleine 7 (7 Boulevard de la Madeleine), a classic style café and bistro located near the Opera. And if you're really hungry, get the croque-madame, which adds a fried egg on top.
Popular Paris Experiences
Select an experience and let one of our Hosts personalise it to what you want to see & do