10 Hidden Gems In Bangkok
By Zarut Suriyaarunroj who, between business development and audio translation for corporate, loves to travel the world and show guests around Bangkok, where he was born and raised.
Edited by Jessica Wright
For any first-time visitor to Bangkok the city is a treasure trove of experiences with always has something new and exciting on the go! To the discerning traveller, one who has either visited the city on numerous occasions or is simply weary of the widely acknowledged must-see hotspots, Bangkok is no less intriguing! Even if you have already ticked off the best tourist picks, uncovered armfuls of magical finds in the Chatuchak and Pratunam markets, and found yourself in awe beside the Grand Palace or one of the many other popular Bangkok attractions, the city still has some hidden treasure for you to discover – you simply need to know where to look! I have created a fresh and exciting list of all the hidden gems in Bangkok I think worthy of any offbeat traveller looking for deeper levels to explore; from which are full of mystery and intrigue, to dazzling with hidden beauty to just straight-up wacky, here is a list of my favourite, lesser-known Bangkok finds!
The Artist's House
First among the list of non-touristy things to do in Bangkok is the Artist's House (Baan Silapin in Thai). This rare surviving – but splendidly restored – Thai wooden house, over two hundred years old and situated along a canal on the Thonburi side of Bangkok, is a tricky one to locate but well worth the hunt. The boardwalk is host to a few little shops, a tiny cafe with an interesting array of stationary for sale and an art gallery, and the area boasts the nostalgia of another time – a quaint air of village life, where you are likely to spot people feeding the fish or buying a meal from a passing boat. The house itself is decorated with several humanoid statues painted in white, red or black that are impossible to ignore by those speeding past on boats. These could perhaps be indicative of the captivating show that happens within; a traditional Thai puppet show that takes place on a small wooden stage, performed by multiple people using intricately handcrafted puppets. With stories based on old Thai mythology, monsters and deities, the show never ceases to captivate the imagination of the audience – which, with only four rows of chairs that are always full, usually spills over onto the surrounding floor making for a full and lively atmosphere.
Maeklong Railway Market
90 minutes out of the city Maeklong Railway Market is certainly an off the beaten path Bangkok find, but a more authentic market experience in Bangkok you will not get! This unique window on market life is an exuberant picture of haphazard market stalls, vendors leaping on and off the passing train whose arrival is heralded by sirens and the rush to lift stall awnings and move produce and people out of the way. The almost dizzying experience of a train passing inches between the stalls – close enough to touch – brings the market to a momentary standstill. Once past, the market displays of fruits, veggies, meats, seafood, sweet treats, clothing, flowers and miscellaneous wares burst into life again, with awnings dropped and baskets moved nonchalantly back onto the tracks as though tons of steel had not just moments ago rushed through. Depending on how long you are in Bangkok, I would definitely recommend squeezing this almost surreal and entirely authentic experience in. Take a look at my itinerary for things to do in Bangkok in 3 days, featuring this hidden find among a whole plethora of other fascinating adventures to embark on in Bangkok over three days.
Museum of Contemporary Art
While a luxurious stroll through contemporary fine art is not necessarily the first thing that comes to mind when imagining your trip to Bangkok, that is possibly what makes this impressive gallery such a special find. The MOCA boasts an exquisite and impactful mix of modern art, comprising mostly of painting and sculpture to make up the largest contemporary art collection in Thailand. Within the five story building is a showcase of Thailand's finest artistic talent with local, regional and western influence, as well as the general sense of appreciation for the country's beloved monarch, King Rama IX. The 800 artworks handpicked from Boonchai Bencharongkul's private collection are tastefully exhibited in well-lit white space and form a comprehensive peek into generations of Thai zeitgeist. To fully appreciate the extensive collection set aside about two hours, more if you happen to be an avid art-lover or if you hope to finish the visit off with a relaxing cup of coffee and snack at one of the excellent coffee shops on offer.
Caturday Cat Café
A cat cafe´s is exactly what the name suggests; a cafe´ filled to bursting with not only coffee and cake but an array of fluffy kitties. While this quirky concept is usually more synonymous with Japan, I assure you that it is quite common a sight in Bangkok. Due to limited living spaces that can accommodate sizeable pets, the population of Bangkok turn to cafeś like this to get their feline fix. Caturday Cat Cafe´ is one of the many authentic spots like this to choose from in the city and offers all things to do with cats and coffee. Certainly one of the more offbeat things to do in Bangkok, this little spot offers a calm respite from the bustling city with glamorous, well-groomed cats sure to win the heart of even the most stubborn dog-person. The lovely cafe´ is situated near Ratchathewi station and incredibly easy to access by skytrain but be sure to get there early in the morning because this popular spot fills up fast! A purrfect (I couldn't resist!) breakfast spot offering human treats like rainbow crepes and tea, as well as feline-friendly snacks that can be purchased and fed to the numerous furry inhabitants of the cafe.
Lumpini Park
The oldest and largest green space in Bangkok, Lumpini park offers a unique insight into the daily lives of Bangkokians many of whom come here on a daily basis to engage in outdoor activities such as tai chi and dance lessons or to take part in the large group exercise classes that take place in the evenings. The cool and shady 142 acre expanse of greenery offers a picturesque place of reprieve from heat and bustle of the city, with soft grass to place a picnic blanket down on, lakes and pools with thriving populations of water monitor lizards and other wildlife, as well as bridges and walkways to explore, and best of all? Access is free! Just 400 metres from the famous night market district of Patpong the park is a great option for a peaceful afternoon before embarking on a busy night out. The day of relaxation can easily extend well into the evening as several fun things to do in Bangkok at night can be found right here, such as the classical concerts held in the gardens of the park and several restaurants to choose from for a quiet dinner. For other great nightlife ideas take a look at my extensive Bangkok nightlife guide.
Double Dog Tea Room
If you find yourself shopped out and weary-limbed in the heart of Chinatown, this special spot might be the reviving balm you need! One of the true hidden gems in Bangkok, the eclectic Double Dog Tea Room offers a calming retreat from the hustle and bustle of the city. Step off of the busy streets and into the warm and aromatic embrace of this traditional tea house, tucked away on the high streets of Chinatown. With a range of delicious exotic teas to choose from, all presented beautifully in traditional ceramic pots and paired with homemade buns, this little-known haven offers an authentic Thai teatime and an escape from the crowds.
If you find the considerable selection of teas a bit intimidating, the friendly staff are on standby to help with everything from choosing a tea to teaching you the correct manner of conducting a tea ceremony. To top it all off the cake is delicious and all the teas are for sale, so that you have the option to take home a bag of your favourite flavour as a vivid and fragrant reminder of your travels.
Amulet Market
Whether you are an inherently spiritual person, a complete and utter cynic or simply happen to harbour a few secret superstitions, I'm sure you can agree that everyone could do with a bit of extra luck and this just might be the place you find it! Nestled beside Wat Mahathat is the biggest amulet market in Bangkok, frequented by the students of traditional amulets and remedies, people with particularly dangerous jobs and those who simply need help with warding off a bit of trouble. With hundreds of merchants hawking all manner of mythical charms in the forms of talismans, religious trinkets, ancient amulets and natural remedies that profess unique healing properties, the place is a venerable bonanza of fascinating cultural sights, sounds and smells. Among the more mystical secret places in Bangkok the market is great for exploring the esoteric side of the city and offers the opportunity to collect some rather unusual keepsakes from tiny Buddhas to amulets of human hair. Whatever strange purchase you land on, you can be sure it is intended to bring you good luck, prosperity, health or other such desirable sentiments.
Erawan Museum
It doesn't get stranger than a gargantuan 29 meter tall three-headed elephant perched atop a pedestal of pure oxidised copper, but weirdness isn't this museum's only drawcard. The showstopper is a combination of the grand interiors that boast psychedelic decor, the effigies of the religious icon Erawan the Hindu elephant and exquisite art collections. The transcendental interiors might just be enough to send your consciousness packing a one-way suitcase to Nirvana, because they are staggeringly beautiful and simply mind-blowing. Situated in Samut Prakan the museum is not particularly hard to spot, what with the ginormous three-headed elephant visible from a distance. The statue is symbolic of the 33-headed white elephant deity Erawan and, while majestic enough to warrant a visit on its own, is surrounded by a lush tropical garden, with thriving fish, turtles and lizard populations. A harmonious destination pervaded by the sounds of birdsong and waterfalls, this one is well worth a visit and promises to be a humbling experience.
Golden Buddha
Officially known as Phra Phuttha Maha Suwan Patimakon, the Golden Buddha is the largest statue in the world to be constructed entirely of pure gold and is a perfect embodiment of the deeply religious nature of the Thai people. Arguably the most regal amongst Bangkok hidden finds the Golden Buddha weighs a staggering five and a half tons and stands three meters tall. The statue is laid out inside the Wat Traimit Temple whose golden exteriors are equally impressive, but travellers hoping to experience them should be mindful of the deep respect with which the Thai people regard such religious sites. If you plan a visit to this sacred spot in Chinatown show your respect for local customs by dressing conservatively, with legs and arms covered, and removing your shoes upon entry. A trip here will not only be rewarded by the astounding sight of the Golden Buddha, but with a chance to explore the surrounding the little temples and vibrant streets of Chinatown.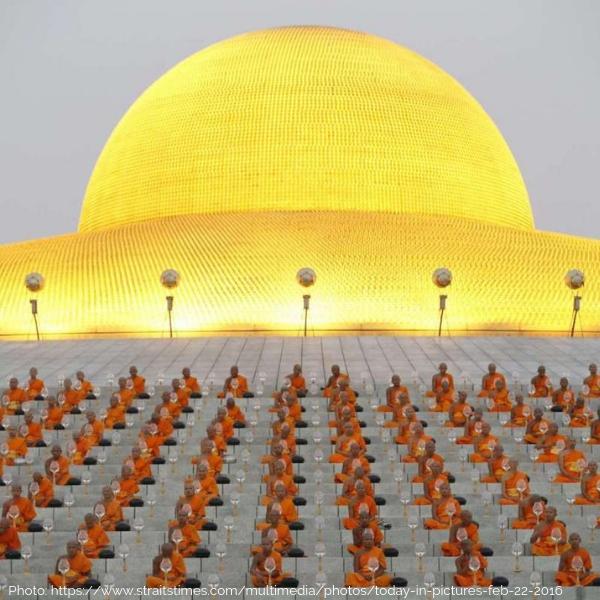 Wat Phra Dhammakaya

Of all the off the beaten path Bangkok travel spots this is in my opinion one of the most striking, with an otherworldly appearance that takes more than a few seconds to get over. Truly off the trodden path, Wat Phra Dhammakaya can be located by typing the name into the local equivalent of Uber, "Grab", which will land you at this awe-inspiring temple. It's referred to locally as the UFO Temple because of the strange golden dome of the temple which looks almost exactly like a flying saucer. Definitely one of the more unique things to do in Bangkok, partly because of its appearance and the sheer size of the space – among the largest temples in the world – and partly due to its having been linked to a cult! If all of that weirdness doesn't intrigue you, this might: the temple – nicknamed the Stupa of One Million Lord Buddha's – is quite literally covered in one million golden Buddha statues. Despite being the centre of quite a bit of controversy in the Thai media, Dhammakaya is something to behold if only for the sheer size of ceremonies, featuring attendance that sometimes reaches over a million people – not bad for a space that only a few decades old.