The Best Areas to Stay in Bangkok
Bangkok is one of the world's most exciting travel destinations, but knowing where to start with looking for somewhere to stay can be a little overwhelming if it's your first time in the city! Whether you're backpacking on a shoestring or you want to treat yourself to one of the city's luxury riverside hotels, we promise there's an area that suits, no matter what your style and budget. To narrow down the search, our local Ping has put together a guide to the 5 best areas to stay in Bangkok so you can find a neighbourhood where you can settle in and feel like a local yourself in no time!
by Ping Palahan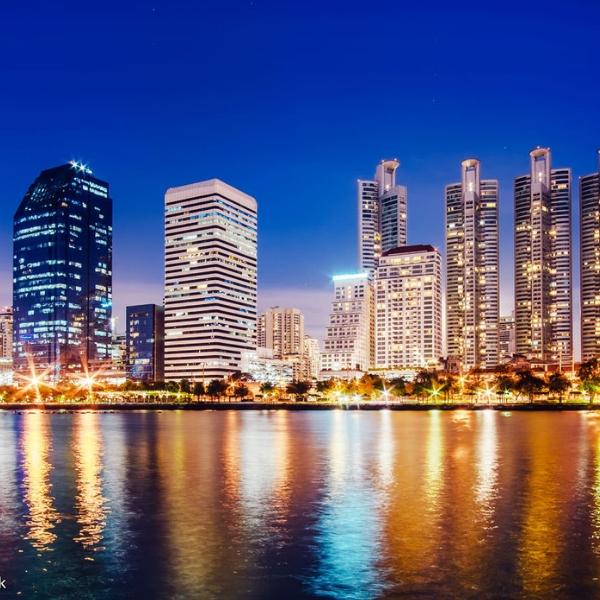 Sukhumvit
Sukhumvit is located in the central part of Bangkok known as the downtown area, and it's great neighbourhood to stay in as it's within walking distance and easy access to both the Skytrain and subway. Home to many expats and well-off Thai locals, the area may lack traditional tourist attractions but it more than makes up for it by offering some of Bangkok's best luxury hotels, fashionable shopping malls, spas, restaurants and hip clubs. This unique neighbourhood is home to Nana, also known by locals as the Arab area (perfect if you fancy some Middle Eastern food); the red light district; Soi 11, which is a famous expats nightlife hotspot; Asoke with its popular shopping mall at Terminal 21; Korea Town and also Soi 23 Cowboy, another infamous strip club. Head down to Phrom Phong which is a popular Japanese area, or check out the high-end shopping malls at Emquartier.
photo: http://www.bangkok.com/sukhumvit/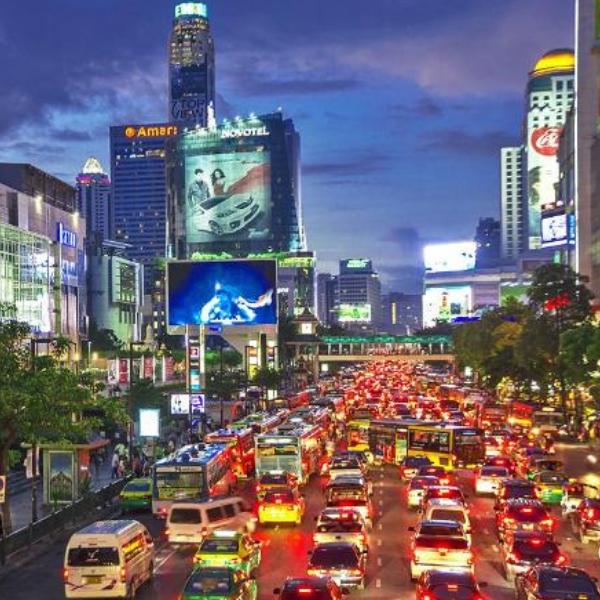 Siam
Siam is Bangkok's shopping hotspot! With The BTS station and the most popular shopping centers like MBK Center, Siam Discovery Center, Siam Center, and Siam Paragon, it's a great neighbourhood if you want to hang out, shop and eat like a local. But it's not all fashion - you can visit Jim Thomson House and Museum, Bangkok Art and Culture Centre, Sea Life Bangkok Ocean World and Madam Tussauds, so we promise you'll never be bored! This is a popular local neighbourhood, especially at the weekends and you'll see a different side of the city to the more traditional local districts. Shopping malls, air-con and Western restaurants this might not sound like the Bangkok you pictured (this isn't the area to stay if you're hoping to eat authentic Thai dishes at every meal), but the number of locals who flock here proves it's a popular neighbourhood in the city.
photo: www.bangkok.com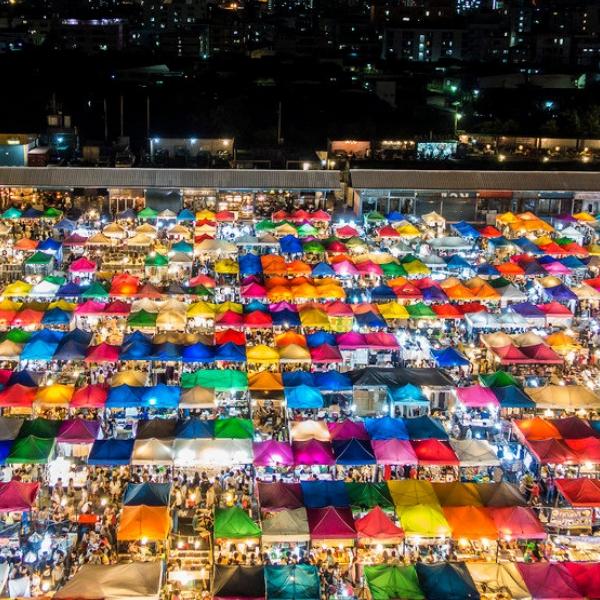 Silom
Silom is the business district of the city where most of the financial companies are located, but this area is packed with luxury hotels and stunning rooftop bars. Silom has it all: great shopping, accommodation options for every budget, some of the city's best bars. There's a huge number of restaurants serving up delicious, authentic Thai food and street food vendors at every corner serving up the local staples day and night. Silom is also home to the city's biggest green space, Lumphini Park, so you can go running or practice Thai Chi like the locals if you feel like it. Silom is also home to a couple of the city's most popular night markets: Patpong, a somewhat notorious bazaar where you'll find everything from fake Rolex's to strip bars known for their ping pong shows. The local Lalai Sap market is a hidden bazaar that's less touristy but frequented by Bangkok locals daily.
photo: ilovethfansclub.blogspot.com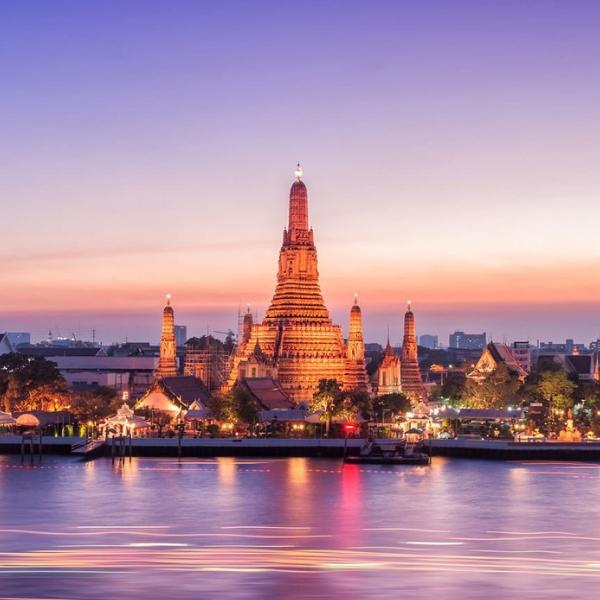 Bangkok Riverside
Also known as the Chao Phraya River front, this is one of the city's most beautiful areas, and is a popular spot for honeymooners to stay in thanks to the scenic surroundings and luxury hotels there are on the water's edge. Explore the river on a historic boat to see some of the city's famous sights like Wat Arun (Temple of the Dawn) and Wat Phra Kaeo (the Grand Palace), or just hop on a commuter ferry for a unique insight into what life is really like for the Bangkokians who pass through. You'll be side by side locals eating, gossiping and heading to work on these river boats, so there's no better way to get a glimpse of authentic local life! Aside from being a pretty pricey area, the only downside is that there's no public transport other than the Chao Phraya boat which stops running around 7pm, after which you'll have to catch a taxi.
photo: www.bangkok.com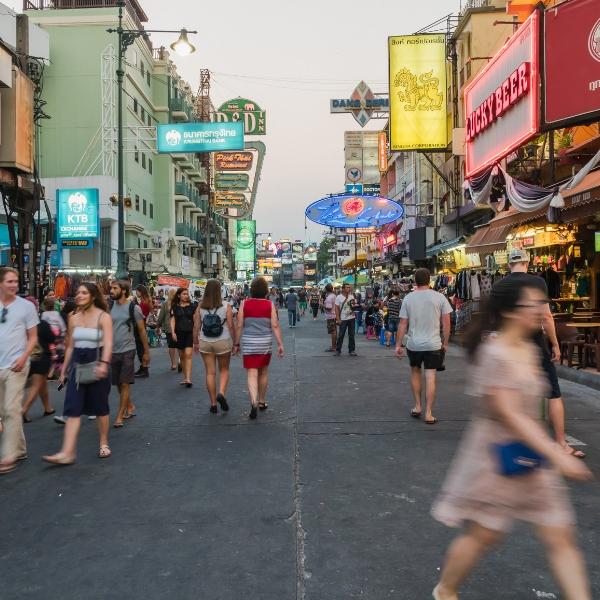 Khaosan
Summed up by the famous book, 'The Beach', Khaosan is the "centre of the backpacking universe"; backpackers meet here to shop, exchange outrageous tales and prepare for the next stint on their journey - oh, and it's always happy hour here! There are countless budget guesthouses and mid-range hotels, internet cafes, bars and clubs, restaurants, book shops, tattoo shops and much more. It's unlike anywhere else in Bangkok, and the atmosphere is so infectious that it's also popular with locals, especially young hipsters and art students. Many of Bangkok's iconic landmarks like Golden Mount, Grand Palace and Emerald Buddha, Wat Pho and Reclining Buddha are within easy walking distance, but if you're in Bangkok to party, this is the place to be!
Popular Bangkok Experiences
Select an experience and let one of our Hosts personalise it to what you want to see & do