What to do in Seoul in 2 Days - 48 Hours Itinerary
There are so many good reasons to visit Korea; kimchi, soju, food too spicy or too cute to eat (sometimes both) and of course the fastest internet in the world. It might seem like an insurmountable task to tackle this megacity and visit Seoul in 2 days, but with inhabitants that are notorious night-owls, two nights in Seoul can be a lifetime. Seeing Seoul in 2 days is the perfect reason to reset your body clock and squeeze a few more conscious hours into your day because in the city sometimes referred to as the New York City of Asia, you are going to want as much time as you can get. With the bonus of being able to safely roam the streets until well into the early hours of the morning and with a subway rated for its incredible ease of use as one of the best in the world, all you need is this Seoul in 2 days itinerary! Before you tackle the exciting 48 hour itinerary we've laid out for you–which tells you exactly what to see in Seoul in 2 days–have a read through these tips for exploring Seoul so that you come fully prepared.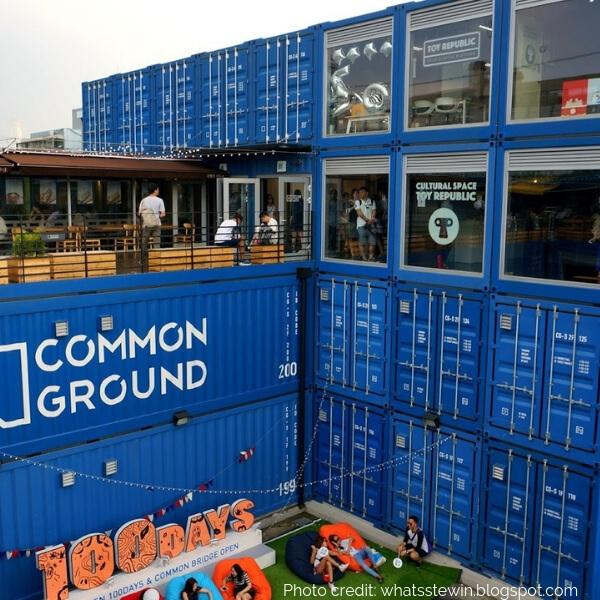 Day 1: Breakfast and shopping
Korea has a brilliant cafe´culture and the options for good coffee are endless. If your body clock is still set to an early rise and you find yourself awake a little earlier than the average Seoulite you could do some exploring. No matter where you stay in Seoul (and if you're wondering where to stay in seoul for 2 days, we can certainly help you choose!) the user-friendly metro will get you where you need to go. Mostly in english, it is also a fairly affordable means of travel, second only perhaps to the local taxi service. Google Maps probably isn't working the way you're used to, but don't despair! There are some great local alternatives; Naver and KakaoMap are just two of the great navigation apps available in Korea. With a little extra time to kill, you could make your way along the path less travelled to the eastern parts of Seoul and have breakfast at Common Ground; a trendy hangout for Konkuk University students. Built using old shipping containers, this vibrant shopping district is overflowing with things to see, shop and eat. Breakfast options are endless and you can enjoy an authentic slice-of-life view that is unique to Seoul while you munch. After a steaming caffeine injection and a hearty meal, you can do some shopping in the designer stores dotting the complex; don't expect to find anything you know, these are local makers only!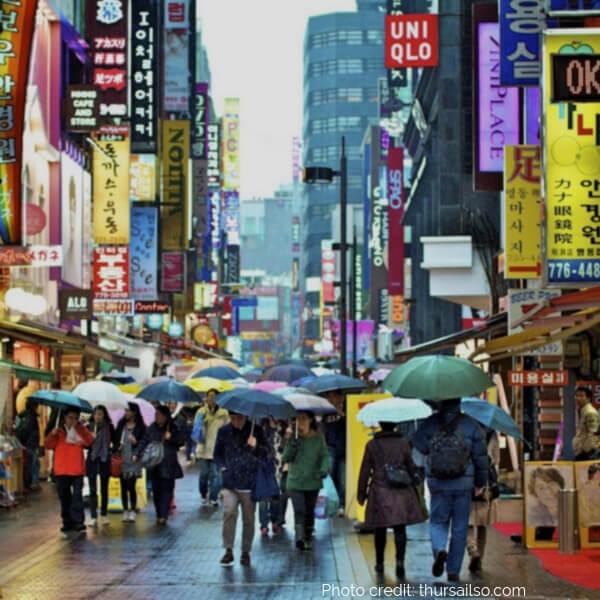 A trip to Gangham
Once you have your fill of food and window(less) shopping, we suggest you see some of the other sites the area has to offer. Seoul Children's Grand Park is worth a visit for the child-at-heart. A zoo, amusement park and botanical garden all rolled into one – catching a sparkling water-fountain music and lights show or doing one of the magical hiking trails will leave you feeling like a kid again. If you're in the mood for something more grown-up and somewhat classier, cross the river to the famous Gangham. For the traveller searching for truly Korean experiences, a trip to Gangham will do the trick. Beautiful and surprisingly free of foreigners after a song with its namesake received over 3 billion views on youtube, Gangham is the penultimate shopping experience. Be warned, if you plan to shop here you better mean business; with brand names likes Louis Vuitton, Versace, and Chanel you'll find yourself brushing shoulders with the social elite of Seoul. If blowing your budget is not on your bucket list, the beautiful Bongeunsa Buddhist Temple in the centre of Gangnam or the gargantuan Seoul Olympic Park (which we describe in a bit more detail here) will make the visit "south of the river" (a direct translation of Gangham) worth your while.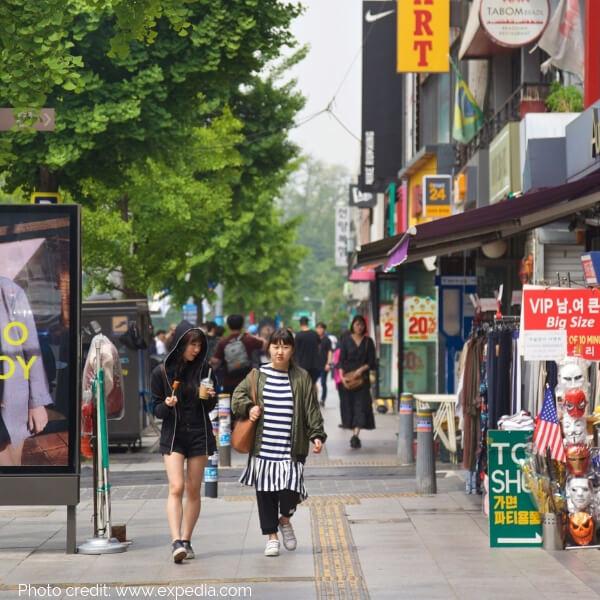 A familiar sight
After a morning of authentic Korean experiences, you might be on the hunt for something a little more familiar. Spend the afternoon exploring foreigner-friendly Itaewon; with so much going on you might even find yourself roaming the interesting and diverse little alleys well into the evening. This is probably the most foreigner friendly place in Seoul, with a huge selection of food from all cultures and a vast array of antique and vintage stores giving the district a hipster vibe. Wandering the bustling alleys, you might find a store solely dedicated to vintage designer shoes and bags; one-of-a-kind treasures that cost a month's salary. If, inevitably, you lose track of time, Itaewon is a great place to party the night away, with a plethora of bars and clubs to choose from. Step into Fountain– a extravagant, multi-story cocktail that serves some interesting mixes. If you want something a tad quieter try Namus, where you won't have to squeeze in between strangers or Jula, a beach bar with a vibe that is distinctly kitschy-cool.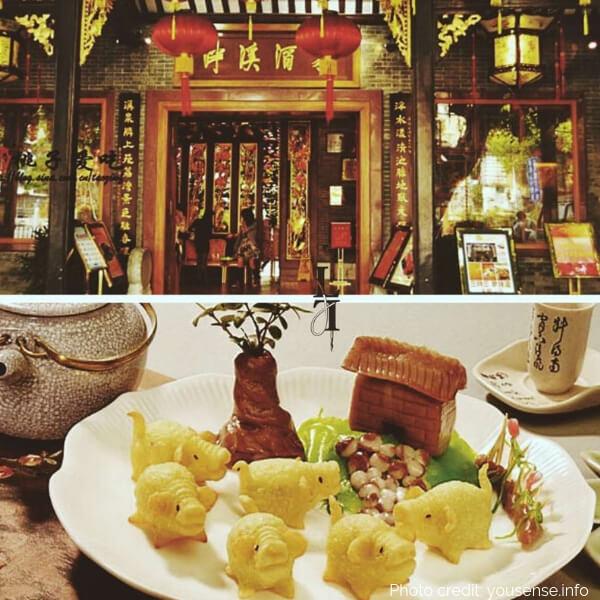 Day 2: Art, tea and traditional clothing
Indulge in a lazy, luxurious sleep-in; a practise highly valued among the nocturnal population of Seoul. Start off with a yummy breakfast of savoury pancakes (jeon) at Gwangjang market to energise, before you take a 10 minute metro trip – hopping off at Anguk – to visit Insadong. Host to loads of fascinating museums with displays of art, tea, and figurines as well as the Alive and Trickeye museums where you'll get to take some crazy snaps with the illusion art for your Insta. You might rent a hanbok – the traditional Korean clothing – or if you're feeling peckish grab some of the most delicious street food in Seoul. After a meal of Korean Japchae (stir fried glass noodles), with a sweet finish of Hotteok or "Dragons Beard Candy" you might try a traditional tea to settle your meal in one of the many tea houses, a popular one being Shin Old Tea House. For something a little weirder try Cat Cafe; a really cute spot home to two cats and an almost obscene amount of cat art.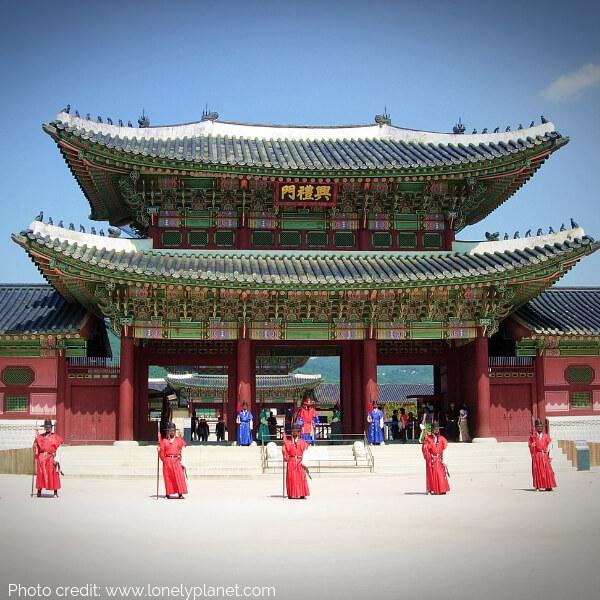 A taste of culture
Fifteen to twenty minutes walking distance from Insadong – incidentally the perfect distance to work for some of that street food – is Gyeongbokgung Palace. If you decided to rent a hanbok, the choice will pay off now because entrance into the palace is free for those dressed up in the traditional garb. Gyeongbokgung Palace is also one of the best places to take photos of a hanbok in its original setting. If you opted for 21st century attire, don't worry, there are other ways to gain cheap entry; if your trip coincides with the last Wednesday of any month, you'll experience Korean "culture day" and will find entry into palaces and museums discounted or even completely free! After enjoying some traditional culture you might be in the mood of another shopping spree. Dongdaemun offers great places for shopping, including the Dongdaemun Design Plaza where you can shop till after midnight. Don't linger too long, however, because once night falls you are going to want to get to the second tallest point in Seoul; the top of Namsan Tower where you can snack on popcorn and beer while enjoying a spectacular 360° view of the city.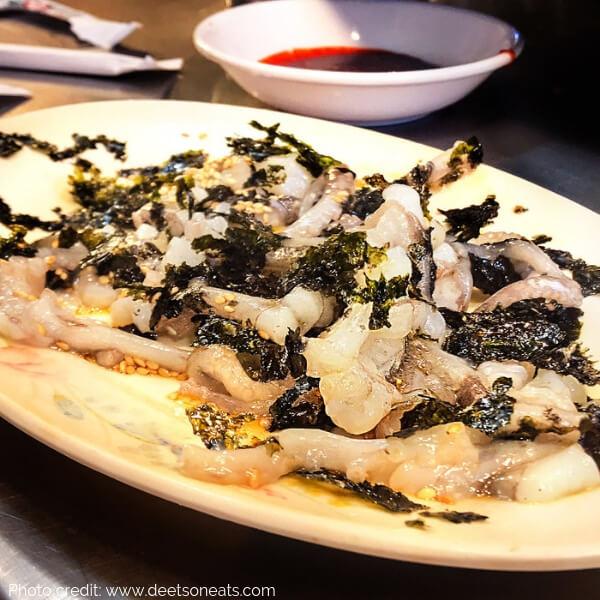 Dinner delights
After the excitement of the day, you might be in need of a substantial dinner. Make a stop at Noryangjin market for delightful selection of fresh fish. The more adventurous among your party might go in for sanakji – a dish of raw octopus so fresh that the tentacles are still moving. While the wriggling is simply a nervous twitch and the octopus is in fact dead, you still have cause for fear! This dish is a notorious choking hazard, so chew your food with utmost care. If moving food is not your cup of tea keep your appetite for Hongdae, your next stop. There are some great night-markets with tempting street-food options to choose from in this university town, but we recommend you try the Korean BBQ and mouth-watering banchan, topped off with a light but insta-worthy bingsoo dessert. Korean BBQ, where you traditionally cook your own meat, might be a learning curve and take some time to get the hang of, but don't worry; it is common for these restaurants to be open until as late as 3am, so there is plenty of time to have your fill.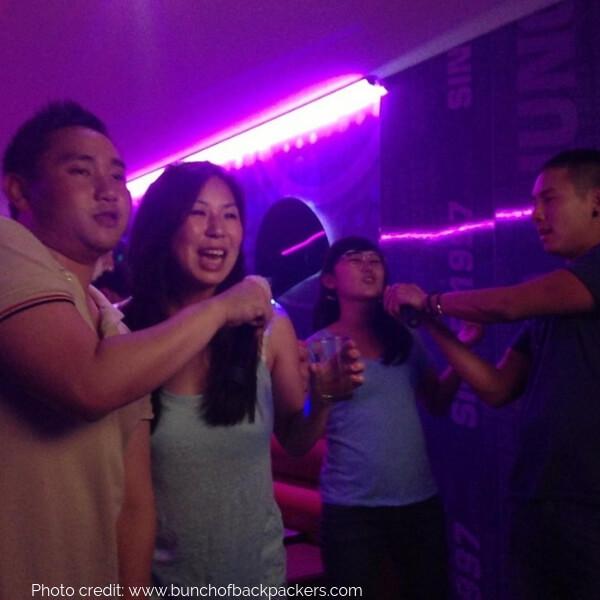 Grab a mic
Be sure to keep your friends topped up with soju (a rice based spirit) throughout the meal, because drinking in Korea is a bonding experience and it is polite to refill a companion's glass when empty and impolite to refill your own. Of course this etiquette means you will be left feeling a wee bit tipsy, in which case there is only one thing left to do; Noraebang (or as we know it, karaoke) is pretty much the thing you do after you've had too many drinks, but aren't ready to go back to your hotel just yet. These karaoke bars are scattered everywhere, and you are likely to find at least three just by looking out the window. There is simply no way better to end off a night and a busy 48 hours in Seoul, than singing (badly) into a microphone with a group of friends.
Popular Seoul Experiences
Select an experience and let one of our Hosts personalise it to what you want to see & do