10 Best Places to Drink in London - A Londoner's Recommendation
By Sean Taylor Williams, a loud, opinionated and incredibly social New Yorker who made London his home.
As someone who migrated across the pond from New York, the bar is set pretty high when it comes to which drinking dens, secret London bars and pubs I like to frequent of an evening (or on a lunch break, but who's keeping score?). One of my favourite things about living here is you're never never too far from a good drink, so the list of the best bars in London just keeps on getting longer. From old man's pubs to notorious gig venues, hip hop dens to legendary London wine bars, London's got it all. To me, the best bars in London are the ones that can offer you more than a cocktail that changes colour and invariably smokes as you're sipping it, and a cool post for your Instagram. It's somewhere with a history, and a raucous tale or two to tell. So this is my guide to London's best secret bars - secret's out, I guess - that I feel really personify the spirit of the city.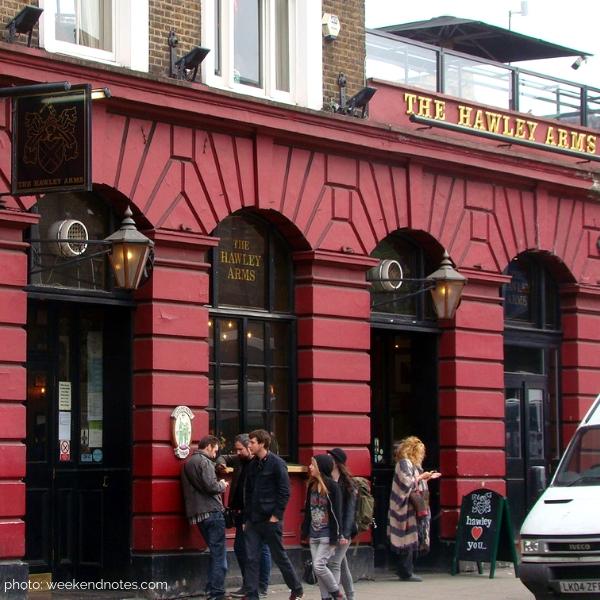 The Hawley Arms
Smack bang in the middle of Camden Lock, the Hawley Arms is an old school joint serv-ing pints and pub grub. Infamous for its gigs, this place has hosted some truly amazing musicians - both already famous and new faces. I happen to have a personal connection with the Hawley Arms, but as a visitor I'd still recommend you stop by since it's a real local spot you'd never have heard about. They boast two bars, a patio and a rooftop ter-race (so I'd say it qualifies as a London rooftop bar) - choose your spot then choose your poison. It's fun all year round, but is especially wicked in summer. If music is your thing, check out their Facebook and Twitter feeds for upcoming gigs.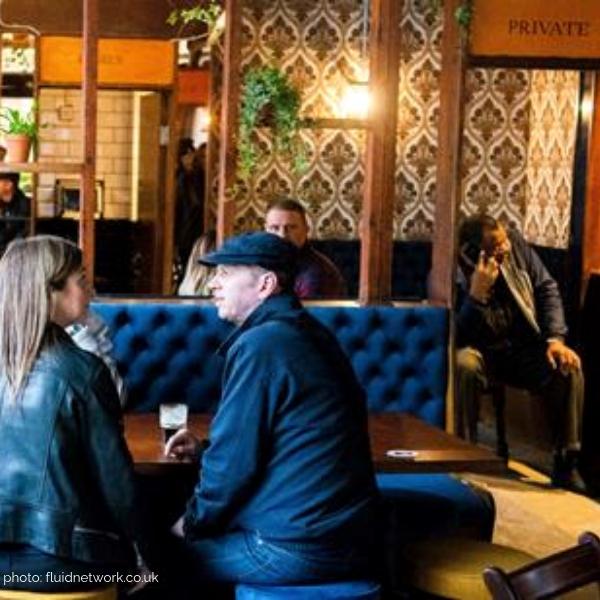 The Good Mixer
Another legendary pub in Camden, and my all-time favourite, is the Good Mixer. It's not a looker, just your regular corner pub, but it was monumental in British music history as the stomping ground for 90's Britpop artists. The patrons of the bar, myself included, were pretty sad when they briefly closed their doors earlier this year. The new version, with its traditional roots thankfully still intact, isn't exactly the same, but it's still a good spot for a pint and a chat. Throw in some live piano performances by the locals who call this their local, and you've got a good mix for an authentic Camden boozer.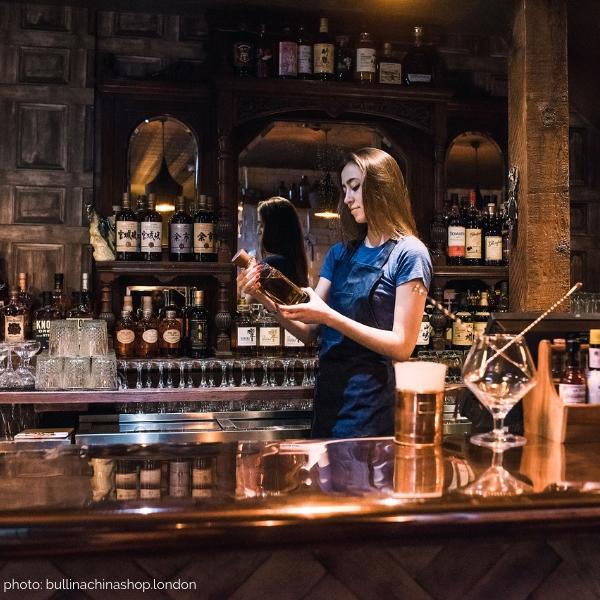 Bull In A China Shop
Hidden behind its Victorian facade, Bull In A China Shop is one of the best east London bars, in my not so humble opinion. It's pretty much what you get when you throw a con-temporary Asian restaurant at a London whisky bar, and wait to see what happens. The owners are passionate about whisky, which is just as well really, and have a generous se-lection of Japanese whiskies and Scottish drams waiting for you. I like it for its 'we don't give a damn about the Instagram crowd' attitude - I'll take a tiny place that serves ex-ceptional booze over a "come here, look at us" postcard bar any day. Ask the experts, but I personally love the Highball Original. And as an added bonus, they do a mean weekend brunch too.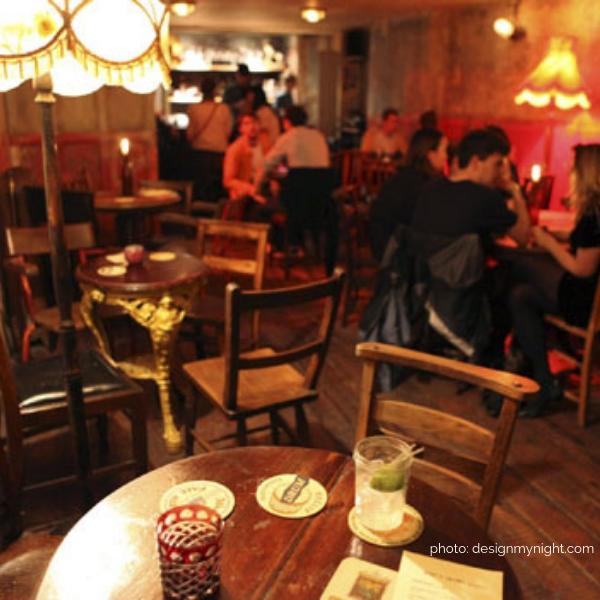 Ruby's
Ruby's is the grand old lady of London's secret bar scene. A subterranean speakeasy bar in Dalston who have never had a website, they're the blueprint for what a good speak-easy should be. No one could ever find the place - it looks just like a closed boutique shop when you're on the outside. Ruby's is hands down London's best kept secret bar, known only to locals and popular known only by word of mouth. Pull up a plastic chair and peruse the cocktail and wine list - you'll find a new menu every week. So how do you find this place? Take yourself on a treasure hunt; it's on Stoke Newington Road, con-cealed behind an entrance which of course doesn't say Ruby's. The only clue you'll get is to look out for an old black door which looks like the entrance to a vintage movie thea-tre, with old posters and incoherent scribbles all over it for decoration. That's Ruby's for you.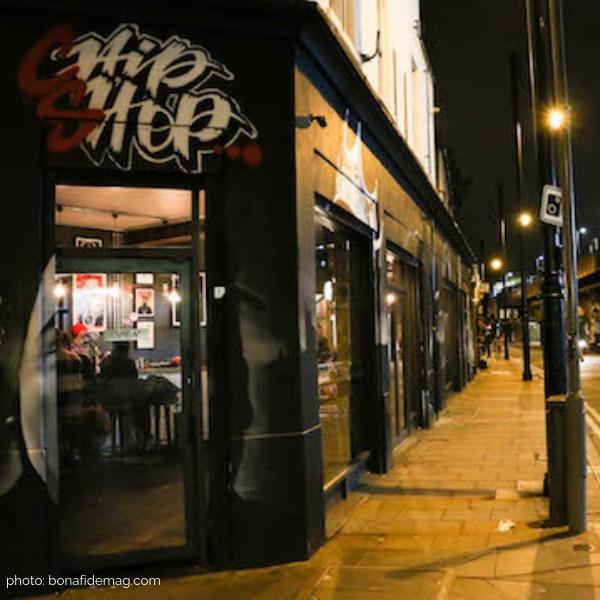 Hip Hop Chip Shop
Could be the best chippy you've ever been to, or the best bar. Only one way to find out. Just like it says on the tin, Hip Hop Chip Shop was once a late night chip joint, but today (along with award-winning chips), they also boast a small bar. Not that they ever boast - but they definitely could. From Notorious BIG, Big L, Big Pun to Jam Master Jay and Easy E, all the hip-hop legends have performed here, and you'll find their names on the shutters. I love it here because it's so humbling to know the stories of these icons, and they only play old school hip-hop and 90s RnB music. Again, the bar is quite undersized but when people ask me reasons to visit this place, I say, if you want to experience Brixton, this is the place to go.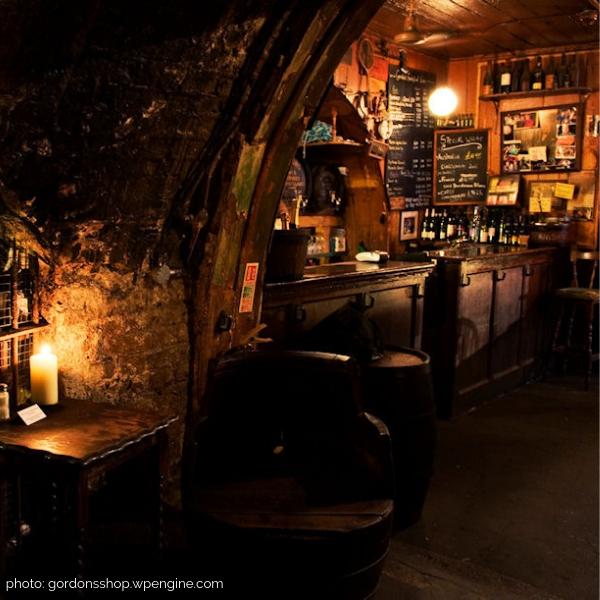 Gordon's Wine Bar
Ask around about a London wine bar and eventually you'll be directed towards Gordon's, but it's worth the hype and popularity. It's one of the oldest bars in London, always packed (so book a table if you can) and in a crypt. Do I need to say much more? There's an ancient feel to the place; sitting squeezed in at a tiny table that's been jammed into a corner under the cellar arches, candles flickering and a monster cheese board in front you, you won't want to leave. Ask at the bar for their recommendations as they change the wine list regularly, or just go for a good old Chianti.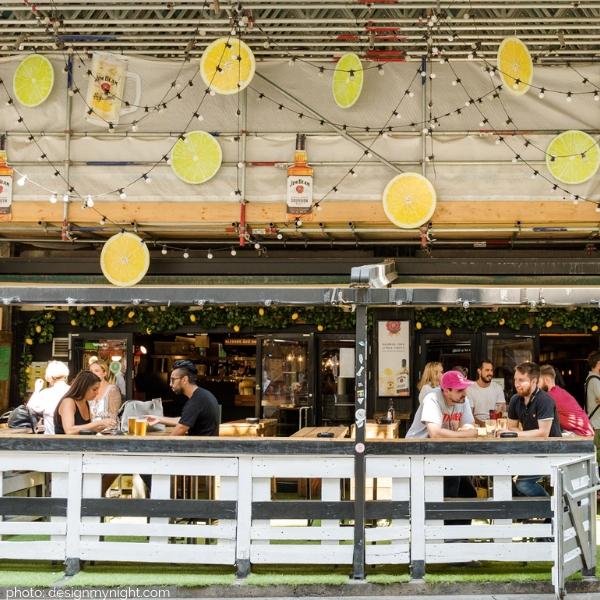 Big Chill Brick Lane
As the name suggests, it's a damn big bar right in the middle of everything happening in Brick Lane. It's got a breezy feel, comfortable sofas and a terrace to chill on. Along with great drinks and food, they also have a foosball table and DJs performing every night. You'll always find something great to do here. No matter your purpose, Big Chill is ideal for hanging out with friends, snack breaks, office meetings and work.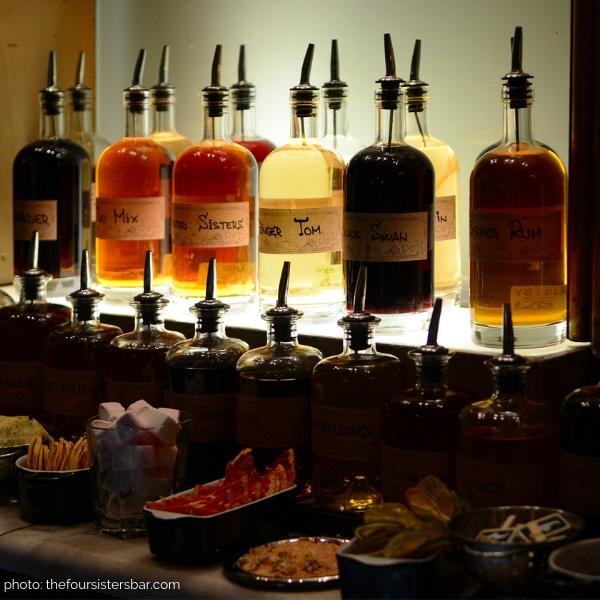 Four Sisters
An intimate and Dickensian bar that's just a short walk away from Islington upper street, Four Sisters is one the best cocktail bars in London. What makes their cocktail list spe-cial is the addition of house-infused spirits and barrel-aged bitters along with the good-ness of locally sourced and best-seasoned ingredients. I like the rustic feel of this place. You could end up bamboozled by the cocktail menu, so when in doubt I'd say go for the the Urban Barbeque or In God We Trust.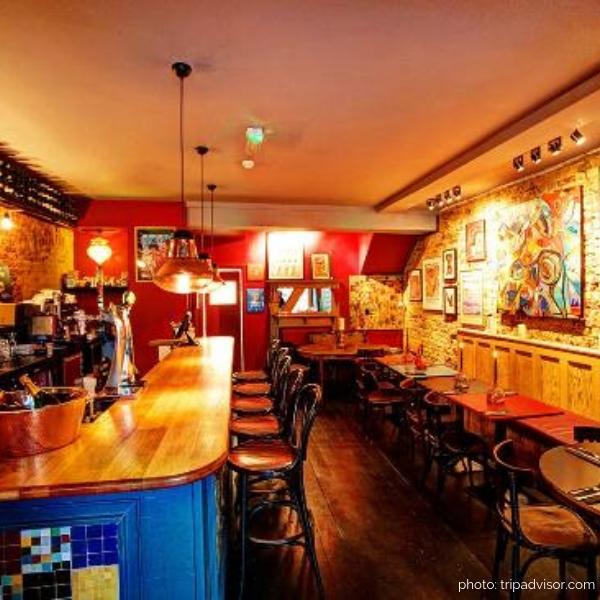 The Social
I would personally recommend you skip right over the bars in Central London. There's so much more to the city than Zone 1, and any Londoner will tell you that the best stuff is kept in Zone 2, for the locals. But if you do have to go into town, I'd say check out The Social. It was started by a record label more than 20 years ago. The label never really took off, but the venue did and it became a regular gig spot for popular musicians. The bar is split into two levels, so after a few drinks upstairs, head down to the club. If you stick around long enough, you can also become a member of the Social Club and get great specials.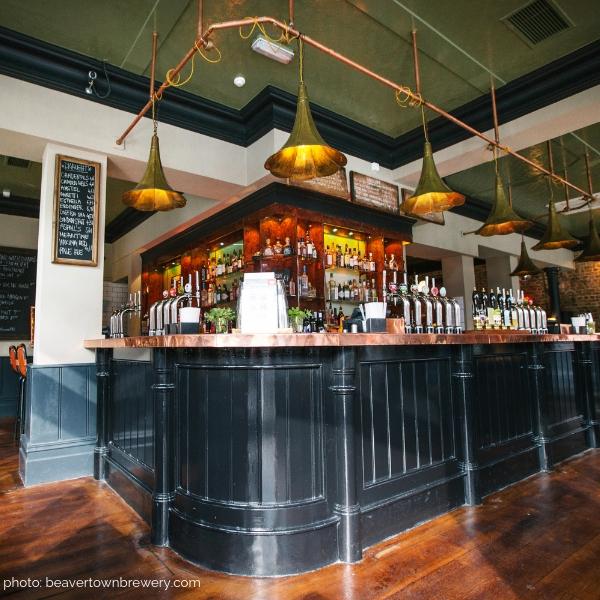 Defector's Weld
Just a two-minute walk away from Shepherd's Bush Overground and Underground station, Defector's Weld is another local boozer. It's been a while since I crossed the threshold of this place, but I remember there was always great music and good vibes. It's pretty big, so you'll always be able to find somewhere to sit and they do a pub quiz on Monday nights which is not to be missed if you want a real London pub experience. They're also dog friendly, so should you happen to have picked up a four-legged friend along the way, you can all hang out here.
Popular London Experiences
Select an experience and let one of our Hosts personalise it to what you want to see & do